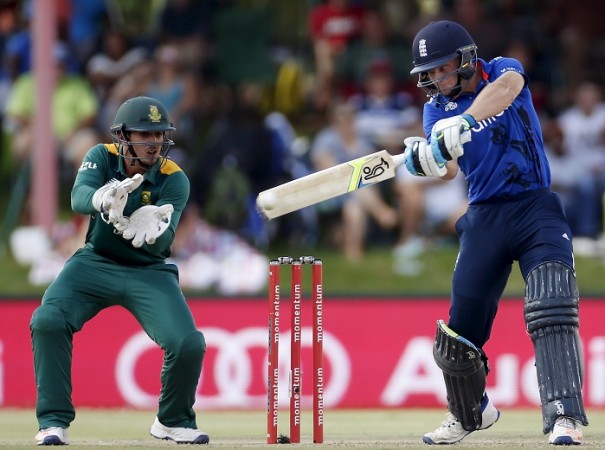 Jos Buttler's 76-ball 105 against South Africa in Bloemfontein on Wednesday could not have been better timed, with the 2016 IPL Player Auction scheduled for Saturday in Bengaluru. Teams, who have set their eyes on the Englishman, will be keen to have such a destructive batsman on board, as he can win matches single-handedly.
The England wicketkeeper-batsman is said to have gathered interest from Sunrisers Hyderabad and Mumbai Indians, so it remains to be seen if they can go all out and bid for the player on Saturday.
Buttler's participation in the IPL 2016 Player Auction was a subject of discussion a few weeks ago, but after the formidable right-hander received the blessings of the ECB, his name has been widely discussed as one cricketers, who could bag a mega deal.
Though England will host Sri Lanka in the Test series at home when the IPL will be at its latter stages, Buttler, who did not play a single Test match in the South Africa series, will be available for the full length of the IPL 2016. Player availability is one of the important criteria that teams look for during an auction, before they buy the player, hence Buttler could be in huge demand.
The Englishman has a base price of Rs 1.5 crores in the auction and could go for double, if not more, if franchsies get involved in a bidding war.
Sunrisers Hyderabad, who have a Rs 30.15cr purse with them for the auctions, should target the player as he is one of the best wicketkeeper-batsmen available in the auctions. Other wicketkeeper-batsmen include Sanju Samson, Dinesh Karthik, Brad Haddin and Sam Billings, but Buttler, without a shadow of doubt, is the best buy in this category.
Mumbai Indians, who are the defending champions, have most of their bases covered, but may opt to sign in a quality wicketkeeper. Pathiv Patel is the present man behind the stumps for Mumbai, but the champions have just Rs 14.40cr in their kitty, and spending a chunk of that amount in Buttler could go either way.
With SRH and MI in need of a quality wicketkeeper-batsman, we might witness a bidding war between the two teams when his name is pulled out of the hat during the auction on Saturday, with several other franchise also, no doubt, set to show an interest.