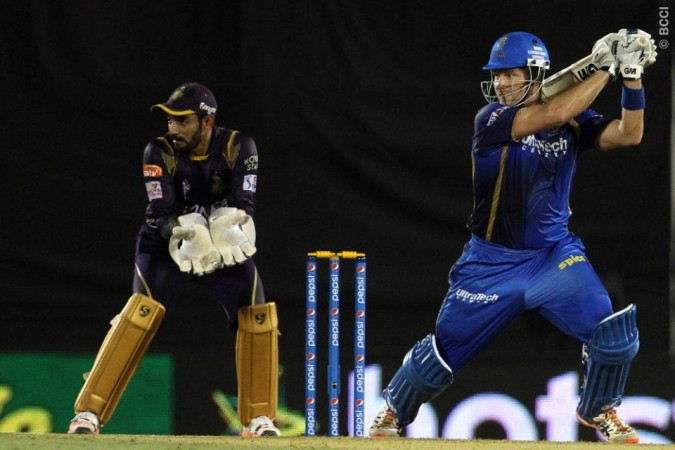 Cricket fans all around the world are excited about the 2016 IPL Player Auction in Bengaluru on Saturday, where a number of international and domestic players are set to go under the hammer, expecting to be bought for astronomical sums of money.
There are 351 players, out of which 130 capped and 219 uncapped cricketers' names are going to be called by the auctioneer, Richard Madley, who has been in charge of the IPL auction since its inception. All the players in the auction pool have a huge chance of making extra bucks and with franchises willing to go an extra mile to sign quality players, some cricketers are going to have a mega pay day on Saturday.
Franchises will put forward their bid for players as per their choice. They are only going to bid for players, who can bolster their already existing squad. In the past editions of the IPL auction, one has seen a number of cricketers being unsold as well. The same is going to be witnessed on Saturday, as only 116 players can be picked during the auction.
Cricketers such as Yuvraj Singh, Kevin Pietersen, Jos Buttler, Shane Watson and Martin Guptill are some of the big names expected to go for big money. These players are potential match-winners on their day, and franchises will be keen to have such quality players on board.
But to sign such players, franchises need to shell out big money, and teams like the Delhi Daredevils and the Sunrisers Hyderabad, who have the best purse left for the auction, can afford to outbid other franchises if they deem it necessary, at least in the early stages.
However, it is not only these big guns, who will be eyed by the franchises but also some youngsters, who could prove to be value for money. The franchises are always looking out for bargain buys in the auction and also unearth special gems.
The ninth edition of the IPL, which is set to start on 9 April, is expected to be a major spectacle yet again. All the eight participating teams in the auction will have their eyes on the title, for which they need huge depth and quality in the squad. Hence this 2016 IPL Player Auction is going to play an important role in helping the team achieve their goal.
Here is a complete list of players for the auction
Marqee Players (with base price)
| | | |
| --- | --- | --- |
| Ishant Sharma | Bowler | Rs 2,00,00,000 |
| Shane Watson | All-Rounder | Rs 2,00,00,000 |
| Kevin Pietersen | Batsman | Rs 2,00,00,000 |
| Yuvraj Singh | All-Rounder | Rs 2,00,00,000 |
| Dale Steyn | Bowler | Rs 1,50,00,000 |
| Aaron Finch | Batsman | Rs 1,00,00,000 |
| Martin Guptill | Batsman | Rs 50,00,000 |
| Dwayne Smith | All-Rounder | Rs 50,00,000 |
Batsmen list (with base price)
| | | |
| --- | --- | --- |
| Michael Hussey | Batsman | Rs 2,00,00,000 |
| Cameron White | Batsman | Rs 1,50,00,000 |
| Mahela Jayawardena | Batsman | Rs 1,50,00,000 |
| David Hussey | Batsman | Rs 1,00,00,000 |
| Usman Khawaja | Batsman | Rs 1,00,00,000 |
| Owais Shah | Batsman | Rs 1,00,00,000 |
| Adam Voges | Batsman | Rs 1,00,00,000 |
| Hashim Amla | Batsman | Rs 1,00,00,000 |
| Rilee Rossouw | Batsman | Rs 1,00,00,000 |
| Joe Burns | Batsman | Rs 1,00,00,000 |
| George Bailey | Batsman | Rs 1,00,00,000 |
| Subramaniam Badrinath | Batsman | Rs 50,00,000 |
| Tamim Iqbal | Batsman | Rs 50,00,000 |
| Marlon Samuels | Batsman | Rs 50,00,000 |
| Richard Levi | Batsman | Rs 50,00,000 |
| Darren Bravo | Batsman | Rs 50,00,000 |
| Nic Maddinson | Batsman | Rs 50,00,000 |
| Cheteshwar Pujara | Batsman | Rs 50,00,000 |
| Michael Klinger | Batsman | Rs 30,00,000 |
| Aiden Blizzard | Batsman | Rs 30,00,000 |
| Abhinav Mukund | Batsman | Rs 30,00,000 |
| Dean Elgar | Batsman | Rs 30,00,000 |
| Lahiru Thirimanne | Batsman | Rs 30,00,000 |
| Reeza Hendricks | Batsman | Rs 30,00,000 |
| Mithun Manhas | Batsman | Rs 30,00,000 |
| Travis Head | Batsman | Rs 30,00,000 |
| Alex Ross | Batsman | Rs 30,00,000 |
| Udit Birla | Batsman | Rs 20,00,000 |
| Srikkanth Anirudha | Batsman | Rs 20,00,000 |
| Evin Lewis | Batsman | Rs 20,00,000 |
| Samarth Singh | Batsman | Rs 10,00,000 |
| Prashant Chopra | Batsman | Rs 10,00,000 |
| Ishank Jaggi | Batsman | Rs 10,00,000 |
| Robin Singh Bist | Batsman | Rs 10,00,000 |
| Swapnil Asnodkar | Batsman | Rs 10,00,000 |
| Himanshu Rana | Batsman | Rs 10,00,000 |
| Tanmay Srivastava | Batsman | Rs 10,00,000 |
| Asad Khan Pathan | Batsman | Rs 10,00,000 |
| Shalabh Srivastava | Batsman | Rs 10,00,000 |
| Shubham Chaubey | Batsman | Rs 10,00,000 |
| Shivam Chaudhary | Batsman | Rs 10,00,000 |
| Chirag Gandhi | Batsman | Rs 10,00,000 |
| Prashant Gupta | Batsman | Rs 10,00,000 |
| Mohit Hooda | Batsman | Rs 10,00,000 |
| Govinda Poddar | Batsman | Rs 10,00,000 |
| Aditya Arvind Waghmode | Batsman | Rs 10,00,000 |
| Mohammad Saif | Batsman | Rs 10,00,000 |
| Rajesh Sharma | Batsman | Rs 10,00,000 |
| Mohammad Taha | Batsman | Rs 10,00,000 |
| Manprit Juneja | Batsman | Rs 10,00,000 |
| Tirumalasetti Suman | Batsman | Rs 10,00,000 |
| Vijay Zol | Batsman | Rs 10,00,000 |
| Debabrata Das | Batsman | Rs 10,00,000 |
| Armaan Jaffer | Batsman | Rs 10,00,000 |
| Saurabh Pradeep Wakaskar | Batsman | Rs 10,00,000 |
| Sachin Baby | Batsman | Rs 10,00,000 |
| Ankeet Bawane | Batsman | Rs 10,00,000 |
| Karun Nair | Batsman | Rs 10,00,000 |
| Apoorv Vijay Wankhade | Batsman | Rs 10,00,000 |
| Umang Sharma | Batsman | Rs 10,00,000 |
| Virat Singh | Batsman | Rs 10,00,000 |
| Paras Dogra | Batsman | Rs 10,00,000 |
| Paul Valthaty | Batsman | Rs 10,00,000 |
| Rinku Singh | Batsman | Rs 10,00,000 |
Bowlers list (with base price)
| | | |
| --- | --- | --- |
| Ashish Nehra | Bowler | Rs 2,00,00,000 |
| Dhawal Kulkarni | Bowler | Rs 2,00,00,000 |
| Kane Richardson | Bowler | Rs 2,00,00,000 |
| James Pattinson | Bowler | Rs 1,50,00,000 |
| Mohit Sharma | Bowler | Rs 1,50,00,000 |
| Nathan Lyon | Bowler | Rs 1,00,00,000 |
| Mthokozisi Shezi | Bowler | Rs 1,00,00,000 |
| Tim Southee | Bowler | Rs 1,00,00,000 |
| Shaun Tait | Bowler | Rs 1,00,00,000 |
| John Hastings | Bowler | Rs 1,00,00,000 |
| Ashok Dinda | Bowler | Rs 50,00,000 |
| Praveen Kumar | Bowler | Rs 50,00,000 |
| Pragyan Ojha | Bowler | Rs 50,00,000 |
| Mustafizur Rahman | Bowler | Rs 50,00,000 |
| Munaf Patel | Bowler | Rs 50,00,000 |
| Samuel Badree | Bowler | Rs 50,00,000 |
| Scott Boland | Bowler | Rs 50,00,000 |
| Shannon Gabriel | Bowler | Rs 50,00,000 |
| Jackson Bird | Bowler | Rs 50,00,000 |
| Nuwan Kulasekara | Bowler | Rs 50,00,000 |
| Ajantha Mendis | Bowler | Rs 50,00,000 |
| Sachithra Senanayaka | Bowler | Rs 50,00,000 |
| Fidel Edwards | Bowler | Rs 50,00,000 |
| Jerome Taylor | Bowler | Rs 50,00,000 |
| Cameron Boyce | Bowler | Rs 50,00,000 |
| Barinder Singh Sran | Bowler | Rs 50,00,000 |
| Hardus Viljoen | Bowler | Rs 50,00,000 |
| Rahul Sharma | Bowler | Rs 50,00,000 |
| Joel Paris | Bowler | Rs 50,00,000 |
| Parvinder Awana | Bowler | Rs 30,00,000 |
| Taskin Ahmed | Bowler | Rs 30,00,000 |
| Dushmantha Chameera | Bowler | Rs 30,00,000 |
| Abhimanyu Mithun | Bowler | Rs 30,00,000 |
| Krismar Santokie | Bowler | Rs 30,00,000 |
| Pankaj Singh | Bowler | Rs 30,00,000 |
| Sudeep Tyagi | Bowler | Rs 30,00,000 |
| Jaydev Unadkat | Bowler | Rs 30,00,000 |
| Ben Laughlin | Bowler | Rs 30,00,000 |
| Kyle Abbott | Bowler | Rs 30,00,000 |
| Michael Beer | Bowler | Rs 30,00,000 |
| Tino Best | Bowler | Rs 30,00,000 |
| Veerasammy Permaul | Bowler | Rs 30,00,000 |
| Beuran Hendricks | Bowler | Rs 30,00,000 |
| Rudra Pratap Singh | Bowler | Rs 30,00,000 |
| Adam Zampa | Bowler | Rs 30,00,000 |
| Devendra Bishoo | Bowler | Rs 30,00,000 |
| Sulieman Benn | Bowler | Rs 30,00,000 |
| Ishwar Chandra Pandey | Bowler | Rs 30,00,000 |
| Vikramjeet Malik | Bowler | Rs 30,00,000 |
| Amit Mishra | Bowler | Rs 10,00,000 |
| HS Sharath | Bowler | Rs 10,00,000 |
| Cheepurupalli Stephen | Bowler | Rs 10,00,000 |
| Rajwinder Singh | Bowler | Rs 10,00,000 |
| Vinay Choudhary | Bowler | Rs 10,00,000 |
| Aniket Choudhary | Bowler | Rs 10,00,000 |
| Chama Milind | Bowler | Rs 10,00,000 |
| Ankit Singh Rajpoot | Bowler | Rs 10,00,000 |
| Nathu Singh | Bowler | Rs 10,00,000 |
| M. Ashwin | Bowler | Rs 10,00,000 |
| Shivil Kaushik | Bowler | Rs 10,00,000 |
| Hardik Patel | Bowler | Rs 10,00,000 |
| Saurabh Kumar | Bowler | Rs 10,00,000 |
| Krishna Das | Bowler | Rs 10,00,000 |
| Seth Rance | Bowler | Rs 10,00,000 |
| Pulkit Narang | Bowler | Rs 10,00,000 |
| Tabrez Shamsi | Bowler | Rs 10,00,000 |
| Karanveer Singh | Bowler | Rs 10,00,000 |
| Jasinder Singh | Bowler | Rs 10,00,000 |
| Mitrakant Yadav | Bowler | Rs 10,00,000 |
| Rishi Arothe | Bowler | Rs 10,00,000 |
| Nikit Dhumal | Bowler | Rs 10,00,000 |
| Mohammad Javed | Bowler | Rs 10,00,000 |
| Akshay Chauhan | Bowler | Rs 10,00,000 |
| Tushar Deshpande | Bowler | Rs 10,00,000 |
| Sayan Ghosh | Bowler | Rs 10,00,000 |
| Jaskaran Singh | Bowler | Rs 10,00,000 |
| Israr Azim Khan | Bowler | Rs 10,00,000 |
| Prasidh Krishna | Bowler | Rs 10,00,000 |
| Shubham Mavi | Bowler | Rs 10,00,000 |
| M. Mohammad | Bowler | Rs 10,00,000 |
| Chandrakant Sakure | Bowler | Rs 10,00,000 |
| Basanta Kumar Mohanty | Bowler | Rs 10,00,000 |
| Balwinder Sandhu | Bowler | Rs 10,00,000 |
| A. Aswin Crist | Bowler | Rs 10,00,000 |
| Alok Pratap Singh | Bowler | Rs 10,00,000 |
| Royston Dias | Bowler | Rs 10,00,000 |
| Baltej Singh | Bowler | Rs 10,00,000 |
| Harmeet Singh Bansal | Bowler | Rs 10,00,000 |
| Prasanth Parameswaran | Bowler | Rs 10,00,000 |
| Rahul Shukla | Bowler | Rs 10,00,000 |
| Bhargav Bhatt | Bowler | Rs 10,00,000 |
| Sarabjit Ladda | Bowler | Rs 10,00,000 |
| Ali Murtaza | Bowler | Rs 10,00,000 |
| Pravin Tambe | Bowler | Rs 10,00,000 |
| Domnic Joseph Muthuswamy | Bowler | Rs 10,00,000 |
| Basil Thampy | Bowler | Rs 10,00,000 |
| Krishnakant Upadhyay | Bowler | Rs 10,00,000 |
| K.C. Cariappa | Bowler | Rs 10,00,000 |
| Navdeep Saini | Bowler | Rs 10,00,000 |
| Vikas Tokas | Bowler | Rs 10,00,000 |
| Yuvraj Chudasama | Bowler | Rs 10,00,000 |
| K.K. Jiyaz | Bowler | Rs 10,00,000 |
| Ronit More | Bowler | Rs 10,00,000 |
| Veer Pratap Singh | Bowler | Rs 10,00,000 |
| Pawan Suyal | Bowler | Rs 10,00,000 |
| Pankaj Jaswal | Bowler | Rs 10,00,000 |
| Rahil S Shah | Bowler | Rs 10,00,000 |
| Rajesh Bishnoi | Bowler | Rs 10,00,000 |
| Babashafi Khan Pathan | Bowler | Rs 10,00,000 |
| Siddarth Trivedi | Bowler | Rs 10,00,000 |
| Avesh Khan | Bowler | Rs 10,00,000 |
All-rounders list (with base price)
| | | |
| --- | --- | --- |
| Stuart Binny | All-Rounder | Rs 2,00,00,000 |
| Mitchell Marsh | All-Rounder | Rs 2,00,00,000 |
| Tillakaratne Dilshan | All-Rounder | Rs 1,50,00,000 |
| Irfan Pathan | All-Rounder | Rs 1,00,00,000 |
| Chris Jordan | All-Rounder | Rs 1,00,00,000 |
| Ravi Bopara | All-Rounder | Rs 1,00,00,000 |
| Thisara Perera | All-Rounder | Rs 1,00,00,000 |
| Manoj Tiwary | All-Rounder | Rs 1,00,00,000 |
| Robin Peterson | All-Rounder | Rs 50,00,000 |
| James Neesham | All-Rounder | Rs 50,00,000 |
| Wayne Parnell | All-Rounder | Rs 50,00,000 |
| Henry Davids | All-Rounder | Rs 50,00,000 |
| Johan Botha | All-Rounder | Rs 50,00,000 |
| Vernon Philander | All-Rounder | Rs 50,00,000 |
| Jeevan Mendis | All-Rounder | Rs 50,00,000 |
| Dilruwan Perera | All-Rounder | Rs 50,00,000 |
| Ashton Agar | All-Rounder | Rs 50,00,000 |
| Darren Sammy | All-Rounder | Rs 50,00,000 |
| Ben Cutting | All-Rounder | Rs 50,00,000 |
| Christopher Morris | All-Rounder | Rs 50,00,000 |
| Nathan McCullum | All-Rounder | Rs 50,00,000 |
| Jason Holder | All-Rounder | Rs 50,00,000 |
| Sean Abbott | All-Rounder | Rs 50,00,000 |
| Shehan Jayasuriya | All-Rounder | Rs 30,00,000 |
| Narsingh Deonarine | All-Rounder | Rs 30,00,000 |
| Soumya Sarkar | All-Rounder | Rs 30,00,000 |
| Dasun Shanka | All-Rounder | Rs 30,00,000 |
| Milinda Siriwardana | All-Rounder | Rs 30,00,000 |
| George Worker | All-Rounder | Rs 30,00,000 |
| Farhaan Behardien | All-Rounder | Rs 30,00,000 |
| Colin Munro | All-Rounder | Rs 30,00,000 |
| Grant Elliott | All-Rounder | Rs 30,00,000 |
| Rayad Emrit | All-Rounder | Rs 30,00,000 |
| Antony Dhas | All-Rounder | Rs 30,00,000 |
| Juan Theron | All-Rounder | Rs 30,00,000 |
| Abhishek Nayar | All-Rounder | Rs 30,00,000 |
| Isuru Udana | All-Rounder | Rs 30,00,000 |
| Marcus Stoinis | All-Rounder | Rs 30,00,000 |
| Rajat Bhatia | All-Rounder | Rs 30,00,000 |
| Kevon Cooper | All-Rounder | Rs 30,00,000 |
| Dilshan Munaweera | All-Rounder | Rs 30,00,000 |
| Doug Bracewell | All-Rounder | Rs 30,00,000 |
| Anton Devcich | All-Rounder | Rs 30,00,000 |
| Seekkuge Prasanna | All-Rounder | Rs 30,00,000 |
| Pawan Negi | All-Rounder | Rs 30,00,000 |
| Carlos Brathwaite | All-Rounder | Rs 30,00,000 |
| Andrew Tye | All-Rounder | Rs 30,00,000 |
| Kevin O'Brien | All-Rounder | Rs 30,00,000 |
| Christopher Barnwell | All-Rounder | Rs 30,00,000 |
| Jaydev Shah | All-Rounder | Rs 20,00,000 |
| Shadab Jakati | All-Rounder | Rs 20,00,000 |
| Pradeep Sangwan | All-Rounder | Rs 20,00,000 |
| Rajagopal Sathish | All-Rounder | Rs 20,00,000 |
| Dwaine Pretorius | All-Rounder | Rs 20,00,000 |
| Jamaluddin Syed Mohammad | All-Rounder | Rs 20,00,000 |
| Sachin Rana | All-Rounder | Rs 10,00,000 |
| Krunal Pandya | All-Rounder | Rs 10,00,000 |
| Dinesh Salunkhe | All-Rounder | Rs 10,00,000 |
| Gurinder Singh | All-Rounder | Rs 10,00,000 |
| Priyank Panchal | All-Rounder | Rs 10,00,000 |
| B Indrajith | All-Rounder | Rs 10,00,000 |
| Jatin Saxena | All-Rounder | Rs 10,00,000 |
| Sagar Trivedi | All-Rounder | Rs 10,00,000 |
| Amit Verma | All-Rounder | Rs 10,00,000 |
| Chirag Jani | All-Rounder | Rs 10,00,000 |
| Pardeep Sahu | All-Rounder | Rs 10,00,000 |
| Deepak Hooda | All-Rounder | Rs 10,00,000 |
| Akash Bhandari | All-Rounder | Rs 10,00,000 |
| Pratyush Singh | All-Rounder | Rs 10,00,000 |
| Faiz Fazal | All-Rounder | Rs 10,00,000 |
| Nikhil Dutta | All-Rounder | Rs 10,00,000 |
| Anirudha Ashok Joshi | All-Rounder | Rs 10,00,000 |
| Praveen Dubey | All-Rounder | Rs 10,00,000 |
| Manan Ajay Sharma | All-Rounder | Rs 10,00,000 |
| Akshay Karnewar | All-Rounder | Rs 10,00,000 |
| Deepak Chahar | All-Rounder | Rs 10,00,000 |
| Subodh Bhati | All-Rounder | Rs 10,00,000 |
| Amir Gani | All-Rounder | Rs 10,00,000 |
| David Keelan Mathias | All-Rounder | Rs 10,00,000 |
| Kishore Pramod Kamath | All-Rounder | Rs 10,00,000 |
| Hiten Dalal | All-Rounder | Rs 10,00,000 |
| Rohan Raje | All-Rounder | Rs 10,00,000 |
| Dharmendrasinh Jadeja | All-Rounder | Rs 10,00,000 |
| Ravi Jangid | All-Rounder | Rs 10,00,000 |
| J. Kousik | All-Rounder | Rs 10,00,000 |
| Mahipal Lomror | All-Rounder | Rs 10,00,000 |
| Deepak Punia | All-Rounder | Rs 10,00,000 |
| Pargat Singh | All-Rounder | Rs 10,00,000 |
| M.S. Washington Sundar | All-Rounder | Rs 10,00,000 |
| Rahul Dagar | All-Rounder | Rs 10,00,000 |
| Mayank Dagar | All-Rounder | Rs 10,00,000 |
| Suneel Raju | All-Rounder | Rs 10,00,000 |
| Baba Aparajith | All-Rounder | Rs 10,00,000 |
| Mayur Sanap | All-Rounder | Rs 10,00,000 |
| Bandeep Singh | All-Rounder | Rs 10,00,000 |
| Milind Tandon | All-Rounder | Rs 10,00,000 |
| Rahul Ajay Tripathy | All-Rounder | Rs 10,00,000 |
| Syed Khaleel Ahmed | All-Rounder | Rs 10,00,000 |
| Saurabh Dubey | All-Rounder | Rs 10,00,000 |
| Venkatesh Iyer | All-Rounder | Rs 10,00,000 |
| Rohit Sharma | All-Rounder | Rs 10,00,000 |
| Mayank Siddana | All-Rounder | Rs 10,00,000 |
| Shasank Singh | All-Rounder | Rs 10,00,000 |
| Chandra Pal Singh | All-Rounder | Rs 10,00,000 |
| Tanveer Ulhaq | All-Rounder | Rs 10,00,000 |
| Iqbal Abdullah | All-Rounder | Rs 10,00,000 |
| Shubham Ranjane | All-Rounder | Rs 10,00,000 |
| Akhil Arvind Herwadkar | All-Rounder | Rs 10,00,000 |
| Ashok Menaria | All-Rounder | Rs 10,00,000 |
| Yogesh Nagar | All-Rounder | Rs 10,00,000 |
| Milind Kumar | All-Rounder | Rs 10,00,000 |
| Akshdeep Nath | All-Rounder | Rs 10,00,000 |
| Sumit Narwal | All-Rounder | Rs 10,00,000 |
| Biplab Samantray | All-Rounder | Rs 10,00,000 |
| Rush Kalaria | All-Rounder | Rs 10,00,000 |
| Jalaj Saxena | All-Rounder | Rs 10,00,000 |
| Vijay Shankar | All-Rounder | Rs 10,00,000 |
| Raiphi Vincent Gomez | All-Rounder | Rs 10,00,000 |
| Kuldeep Hooda | All-Rounder | Rs 10,00,000 |
| Vaibhav Rawal | All-Rounder | Rs 10,00,000 |
| Prasanth Padmanabhan | All-Rounder | Rs 10,00,000 |
| Jaydev Gokul Bista | All-Rounder | Rs 10,00,000 |
| Ankit Nagendra Sharma | All-Rounder | Rs 10,00,000 |
| Kshitiz Sharma | All-Rounder | Rs 10,00,000 |
| Swapnil Singh | All-Rounder | Rs 10,00,000 |
| Shrikant Mundhe | All-Rounder | Rs 10,00,000 |
| Abhishek Raut | All-Rounder | Rs 10,00,000 |
| Rohan Prem | All-Rounder | Rs 10,00,000 |
| Manjeet Kumar Chaudhary | All-Rounder | Rs 10,00,000 |
| Rahul Tewatia | All-Rounder | Rs 10,00,000 |
| Amit Yadav | All-Rounder | Rs 10,00,000 |
Wicket-keepers (with base price)
| | | |
| --- | --- | --- |
| Sanju Samson | Wicketkeeper | Rs 2,00,00,000 |
| Dinesh Karthik | Wicketkeeper | Rs 2,00,00,000 |
| Brad Haddin | Wicketkeeper | Rs 1,50,00,000 |
| Jos Buttler | Wicketkeeper | Rs 1,50,00,000 |
| Johnson Charles | Wicketkeeper | Rs 30,00,000 |
| Mushfiqur Rahim | Wicketkeeper | Rs 30,00,000 |
| Sam Billings | Wicketkeeper | Rs 30,00,000 |
| Shane Dowrich | Wicketkeeper | Rs 30,00,000 |
| Peter Handscomb | Wicketkeeper | Rs 30,00,000 |
| Ben Dunk | Wicketkeeper | Rs 30,00,000 |
| Morne van Wyk | Wicketkeeper | Rs 30,00,000 |
| Tim Ludeman | Wicketkeeper | Rs 30,00,000 |
| C.M. Gautam | Wicketkeeper | Rs 20,00,000 |
| Aditya Tare | Wicketkeeper | Rs 20,00,000 |
| Nitin Saini | Wicketkeeper | Rs 20,00,000 |
| Eklavya Dwivedi | Wicketkeeper | Rs 20,00,000 |
| Nicolas Pooran | Wicketkeeper | Rs 20,00,000 |
| Ishan Kishan | Wicketkeeper | Rs 10,00,000 |
| Rishabh Pant | Wicketkeeper | Rs 10,00,000 |
| Cameron Bancroft | Wicketkeeper | Rs 10,00,000 |
| Pinal Shah | Wicketkeeper | Rs 10,00,000 |
| Sadiq Hassan Kirmani | Wicketkeeper | Rs 10,00,000 |
| Pradeep Malik | Wicketkeeper | Rs 10,00,000 |
| Jaskaranvir Singh Sohi | Wicketkeeper | Rs 10,00,000 |
| Avi Barot | Wicketkeeper | Rs 10,00,000 |
| Ankush Bains | Wicketkeeper | Rs 10,00,000 |
| Manvinder Bisla | Wicketkeeper | Rs 10,00,000 |
| Ian Dev Singh Chauhan | Wicket Keeper | Rs 10,00,000 |
| K.B Arun Karthik | Wicketkeeper | Rs 10,00,000 |
| Kona Srikar Bharat | Wicketkeeper | Rs 10,00,000 |
| Shreevats Goswami | Wicketkeeper | Rs 10,00,000 |
| Smit Kamlesh Patel | Wicketkeeper | Rs 10,00,000 |
| Mahesh Rawat | Wicketkeeper | Rs 10,00,000 |
| Dishant Yagnik | Wicketkeeper | Rs 10,00,000 |
| Jitesh Sharma | Wicketkeeper | Rs 10,00,000 |
| Kedar Devdhar | Wicketkeeper | Rs 10,00,000 |
| Vishant More | Wicketkeeper | Rs 10,00,000 |