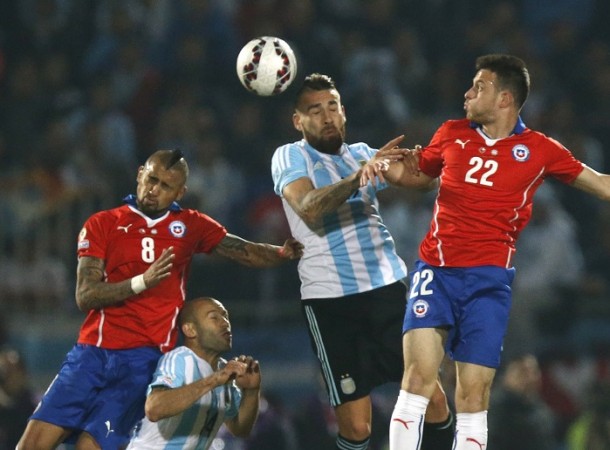 The Copa America Centenario, with 16 teams across two continents participating, promises to be a humdinger of a tournament. With all the South American teams being joined by a select few from the CONCACAF association, expect a few of the matches to leave you with that "man that was awesome" feeling.
While the usual suspects – Argentina, Brazil, Chile, Uruguay – are fancied to win this Copa America 2016, the likes of Mexico, Ecuador and USA, the hosts, will also want to have their say.
Here is a look at some of the marquee matchups of the group stages of the 2016 Copa America Centenario.
USA vs Colombia: June 3, 9.30 p.m. ET, 2.30 a.m. BST, 7 a.m. IST, Levi's Stadium in Santa Clara: The opening match, the one that will send a signal across to the rest of the teams and the fans on what to expect from this one-of-a-kind tournament. USA come into this Copa America with plenty of questions to answer, and while Colombia are not the really scary South American team, they have match-winners like a James Rodriguez who can tear any team apart. Jurgen Klinsmann will hope this is the match that sees his team come of age, and with a capacity crowd expected to cheer the team on, this will be a game that the hosts will want to make their statement on.
Brazil vs Ecuador: June 4, 10 p.m. ET, 3 a.m. BST, 7.30 a.m. IST, Rose Bowl Stadium in Pasadena: The two teams that are expected to qualify for the quarterfinals from Group B meet in their first match of the group. Brazil come in with a depleted squad, with the biggest player missing being Neymar. Ecuador have been outstanding in the World Cup qualifiers so far, with Gustavo Quinteros building an exciting side capable of topping any team. This has the potential of an upset.
Mexico vs Uruguay, June 5, 8 p.m. ET, 1 a.m. BST, 5.30 a.m. IST, University of Phoenix Stadium in Glendale: Again, a clash between the two teams tipped to finish top two in their group. First match of the tournament for both, and without Luis Suarez, Uruguay will have a tough time finding a way past a stingy Mexico defence.
Argentina vs Chile: June 6, 10 p.m. ET, 3 a.m. BST, 7.30 a.m. IST, Levi's Stadium in Santa Clara: Another opener between the two best teams of the group. Alexis Sanchez's Chile are the defending champions, Lionel Messi's Argentina the favourites; Chile vs Argentina was the final of the Copa America last year. Enough said, really.
USA vs Costa Rica: June 7, 8 p.m. ET, 1 a.m. BST, 5.30 a.m. IST, Soldier Field in Chicago: Costa Rica are a team capable of upsetting the US applecart, and if USMNT come into this match on the back of a defeat to Colombia, their hopes of making it to the quarterfinals could depend on the outcome of this match.
Brazil vs Peru: June 12, 8.30 p.m. ET, 1.30 a.m. BST, 6 a.m. IST, Gillette Stadium in Foxborough: Brazil's standards in this tournament would have already been gauged after the first two matches, and depending on how those went, this one against Peru could be crucial. The all-South American clash could go either way, even if Peru have not had a great time of it in the South American World Cup qualifiers, especially with Brazil likely to be goalshy without Neymar.