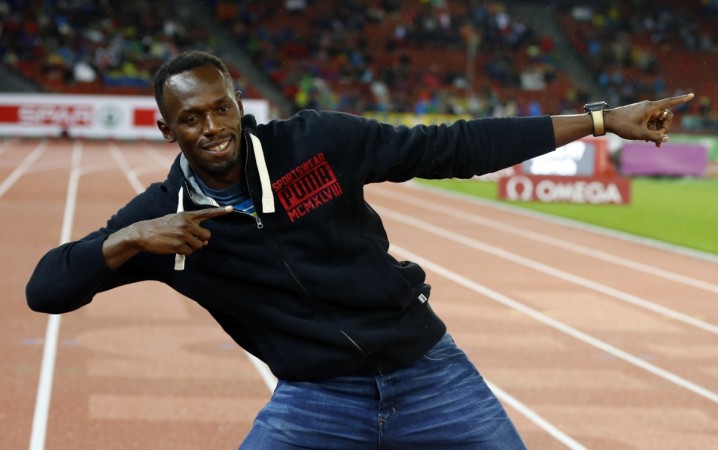 The 2015 World Championships, which is scheduled to start from 22 August, will witness athletes from around the world in action to battle it out for the prestigious medals at the Bird's Nest in Beijing.
Athletes such as Usain Bolt, Justin Gatlin, David Storl, Joe Kovacs, Sandra Perkovic, Asafa Powell and others will be the major attraction in the world championships. But it is the men's 100m dash, which is expected to be the biggest highlight of the championship.
The 100m dash has become more interesting this time, considering Gatlin's performance this season, which has been top notch as he has already run in 9.74 seconds this season. On the contrary, Bolt has not been at his best as he has been suffering from injuries for years now.
However, Bolt feels that Glen Mills is happy with him, hinting that he is doing well. Hence, Bolt is confident of putting up a good show at the championships.
"My coach (Glen Mills) is happy, that's the key thing," The Irish Times quoted Bolt as saying.
"When he's happy I always know I'm in good nick. I'm good to go. I'm at my best, that's all I can say. I'm in great form, I'm happy with where I'm at. My start has come together at the right time."
Due to his injuries, Bolt has not been able to participate in a number of races that might have hampered his preparations, while Gatlin and other top runners have been gearing up for the competition with good show in the Diamond League.
Hence, Bolt -- who has always been an overall favourite in the 100m races wherever he has participated -- will have a tough time at the Bird's Nest to defend his crown.
His injury concerns might have led critics and experts to believe Bolt could be beaten, but the Jamaican sprinter is not perturbed by such things.
"As soon as I get an injury people start questioning if I can come back," he said. "It's just one of those things – Usain Bolt is injured, Usain Bolt won't come back, Usain Bolt will be beaten. It's headlines. I don't try to worry about what the media is saying," said Bolt.
The world is aware of the feat Bolt has achieved in the past and he is fully capable of repeating such feats, though it may not be upto the Beijing Olympics standards -- where he shattered the 100m world record.
Bolt has plenty left in him to outrun anyone in the world, even Gatlin.