The ₹1 currency note that faded into oblivion two decades ago is all set to appear, in a new avatar.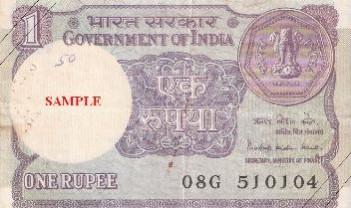 The new ₹1 currency will be predominantly pink and green, as against the indigo colour earlier. The masthead will carry 'Bharat Sarkar,' with 'Government of India' printed below that and carry the signature of the Finance Secretary, as per earlier practice.
The 'Printing of One Rupee Currency Notes Rules, 2015' has been notified by the government to facilitate the move and comes into effect from 1 January 2015.
All other notes (a2, a5, a10, a20, a50, a100, a500, a1,000) are issued by the Reserve Bank of India, and carry the signature of the RBI Governor. They have 'Bhartiya Reserve Bank' and 'Reserve Bank of India' printed on them.
The notification does not carry reasons for the notes coming back to print, though it is understood that shortage of coins and the increase in coins being melted for their metal value have prompted the move, reads Business Line.
The notification does not specify the number of notes to be printed.
In 1994, the last year of its printing, 44 million notes of ₹1 currency were issued. Though they are still legal tender, many have ended up as souvenirs and as collectors' items, commanding a premium in numismatic circles.
The printing of these notes was withdrawn in phases owing to higher cost and also to free capacity to print higher denomination notes; 1 note was discontinued in November 1994, followed by ₹2 in February 1995, and ₹5 in November 1995.