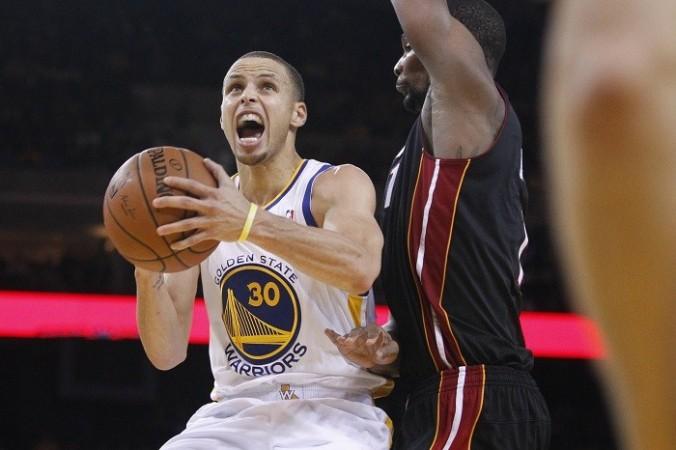 The NBA has announced the starting lineup for the 2015 All Star game, which is scheduled to be held at New York's Madison Square Garden as the Western Conference takes on Eastern Conference.
It is one of the most highly anticipated events in the NBA calendar, attended by former basketball greats as well.
It is not just another game, but a basketball carnival over the weekend, where the best NBA players of the current season are in action with various other events such as three points shoot out contest and the slam dunk contest also keenly awaited.
Lebron James from Cleveland Cavaliers had been leading the all star votes for a long time, but eventually it was Golden State Warriors guard, Stephen Curry who received the maximum votes with 1,513,324 while James received 1,470,483 votes.
Curry thanked fans around the world for the votes.
"This means a lot; it's something that I don't take for granted," Curry said in a statement.
When the last votes update were given , it was the Cavs star player, James who was leading Curry with 13,285 votes, but the Warriors guard seems to have received a large share of votes in the latter stages, which helped him surpass James by 42,000 votes.
"To have support of fans not only in the Bay Area but across the nation and across the world, supporting not only myself but our team, it means a lot," added Curry.
"I want to represent the Warriors the best way I know how, every single game, and will do that proudly in New York thanks to the fans and their votes. Something that's definitely a dream come true, and to be two times in a row, I'm proud of that."
The starters for the Western Conference are Curry from Golden State Warriors, Kobe Bryant from the Los Angeles Lakers, Anthony Davis from New Orleans Pelicans, Blake Griffin from Los Angeles Clippers, and Marc Gasol from Memphis Grizzlies.
While for the East, the starters are James from Cleveland Cavaliers, Pau Gasol from Chicago Bulls, Carmelo Anthony from New York Knicks, John Wall from Washington Wizards and Kyle Lowry from Toronto Raptors.
Year after year, after the starters are announced, there are some misses which grab the headlines and this time it has been no different with one of the best players of the season so far, James Harden, from Houston Rockets unable to make it to the starting lineup.
Harden has been on the top of his game this season, where he even leads the NBA as far as point per game is concerned.
But Harden should get his chance to impress in the All Star game, where he will definitely be selected as a reserve player for the mega game.
The seven reserves are to be selected by the coaches on January 29.