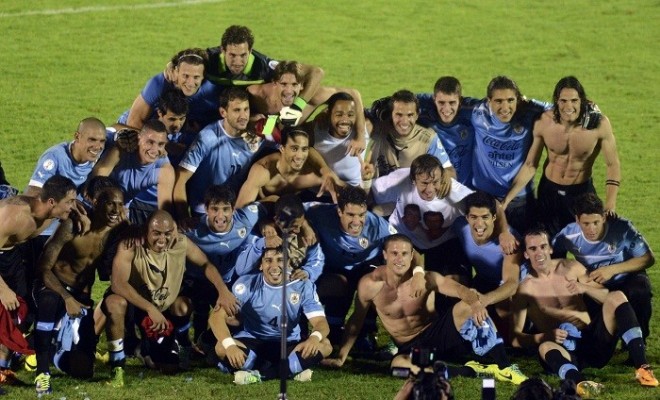 Uruguay became the final team to qualify for the 2014 World Cup in Brazil after a 5-0 aggregate victory over Jordan in their playoff.
The South Americans had as good as booked their tickets to Brazil after the first leg in Jordan, where they won 5-0.
The second leg in Montevideo ended 0-0, which was more than enough to ensure Uruguay, semifinalists in 2010, would feature in the World Cup again.
"We're all happy because the truth is it's been a hard road," striker Edinson Cavani told reporters. "We have to enjoy it."
Uruguay coach Oscar Tabarez was all praise for Jordan, who, after being thumped in the first leg, did pretty well to blunt Uruguay's firepower, even if the lack of motivation for the home side, with the tie pretty much decided, might have played a factor as well.
"[Jordan] got what they wanted, a dignified role and a result that I suppose for them is very important," Tabarez said. "We must accept ... that the main reason why we couldn't win was our rivals' good tactics."
Uruguay defender Martin Caceres alluded to the fact that it was a little difficult to rouse themselves for the game, with the scoreline already 5-0 in their favour.
"After winning 5-0 it was going to get complicated, we knew we had to take the match seriously," he said. "We'd have liked to give the crowd a triumph and at least one goal to shout about but it wasn't to be, that's football."
Below is a list of all the 32 teams that have qualified for the 2014 World Cup, including the hosts Brazil.
Qualified teams: Europe: Italy, Netherlands, Belgium, Switzerland, Germany, Russia, Bosnia, England, Spain, France, Greece, Portugal, Croatia.
South America: Brazil, Argentina, Colombia, Chile, Ecuador, Uruguay.
Africa: Ivory Coast, Nigeria, Algeria, Cameroon, Ghana.
Asia: Japan, Australia, South Korea, Iran.
North, Central America and Caribbean (CONCACAF): United States, Mexico, Costa Rica, Honduras.