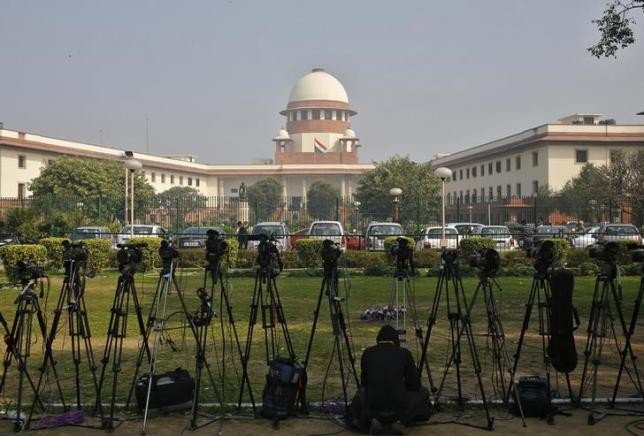 The Supreme Court reportedly appointed Friday two senior lawyers to defend the convicts in the December 2012 gang-rape and murder case of a 23-year-old paramedical student in Delhi. The court will hear July 18 the appeals of the convicts, who are on death row.
The apex court appointed senior advocate Raju Ramachandran to represent convicts Mukesh and Pawan Gupta, while lawyer Sanjay Hegde will appear for Vinay Sharma and Akshay Thakur, Asian News International (ANI) reported.
It took the decision as it was not satisfied with the "quality of defence lawyers" initially appointed, according to ANI.
The Supreme Court will also appoint an amicus curiae, who will assist the court during the hearing of the appeals of the four convicts facing death sentence, a Times of India reporter tweeted Friday.
An amicus curiae assists court with information on the case, but is not party to the appellant or others linked to it.
On the night of Dec. 16, 2012, the girl was gang-raped and assaulted with an iron rod on a private moving bus by six men, including a juvenile convict who was released December 2015. The victim sustained serious injuries to her abdomen and intestines, and died Dec. 29, 2012. Of the five adult convicts, one was found dead in Tihar Jail March 11, 2013. The police reportedly suspect it was a suicide.
The victim was earlier named Nirbhaya by a national newspaper. However, during protests against the juvenile convict's release last December, her parents announced her name — Jyoti Singh — in public.
Nirbhaya case: Raju Ramachandran to appear for convicts Mukesh & Pawan. Sanjay Hegde to defend Vinay & Akshay. SC to hear matter on July 18

— ANI (@ANI_news) April 8, 2016
Supreme Court decides to appoint amicus curie to assist it in hearing appeal of death convicts in Nirbhaya case. @timesofindia — Amit Anand Choudhary (@amitanandTOI) April 8, 2016