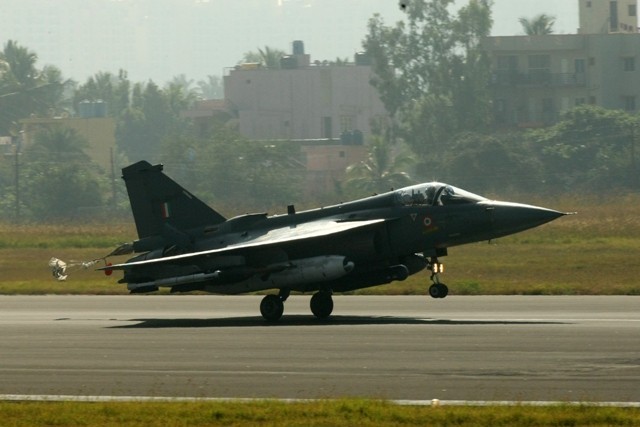 Two Tejas light combat aircrafts (LCA) were finally inducted into the Indian Air Force (IAF) squadron, known as the "Flying Daggers 45," in Bengaluru on Friday. "Multi-religious ceremonies" were also performed before the induction, with a few IAF officers "breaking coconuts" in a traditional ritual to bring good luck, ANI said in a series of tweets.
According to the Indian Express (IE), the squadron will be based in Bengaluru for the first couple of years following which it will move to Sulur in Tamil Nadu. The aircraft will play a major role in the IAF's combat plan next year. It might also be deployed in forward bases. The IAF, in future, hopes to obtain more than 80 aircraft, called Tejas 1A, with better specifications, the daily reported, citing the Press Trust of India (PTI).
The "Made in India" project got the approval to replace the force's old MiG-21 fighter planes in 1983, but was sanctioned nine years later. It suffered due to US-imposed sanctions following the nuclear tests that India carried out in May 1998. Minister of Defence Manohar Parrikar handed over the first jet to the force in January 2015, the Hindustan Times reported.
Describing it as a moment of national pride, Parrikar, in a tweet, also congratulated Hindustan Aeronautics Limited (HAL), which manufactured the planes, and Aeronautical Development Agency (ADA) for their "succesful induction".
Congratulations to HAL & ADA for successful induction of the indigenously developed Tejas fighter jet. pic.twitter.com/U3Ql4IfbYv

— Manohar Parrikar (@manoharparrikar) July 1, 2016
Moment of National pride. Indigenously developed Tejas fighter jet inducted into Air Force. Tejas will take our air strength to new heights. — Manohar Parrikar (@manoharparrikar) July 1, 2016
The jets inducted on Friday are in their initial operation configuration (IOC) and have limited capabilities. Upcoming versions, which will be in the final operational clearance (FOC) configuration, are expected to be powerful. They will be equipped with additional long-range weapons, superior radar, advanced electronic warfare suite and mid-air refuelling capability, the daily reported.
According to the IE report, Tejas is capable of handling air-to-air missiles, air-to-surface missiles, anti-ship missiles, bombs and rockets. 42 percent carbon fibre composites, 43 percent aluminium alloy and the remainder titanium alloy make up the structure of the aircraft. It is being developed for the IAF and the Navy in single-seat fighter and twin-seat trainer variants.
The jets, considered to be the lightest multi-role supersonic aircraft of its class, can travel at a maximum speed of 2,205 km/hr for FOC version and 2,000 km/hr for IOC version.
The LCA took off on its first flight on January 4, 2001 reaching a milestone in the Indian aviation industry. Then Prime Minister Atal Behari Vajpayee had named the aircraft "Tejas," meaning "radiance" in Sanskrit, according to the HT report.
Tejas participated in its first foreign show this year at the Bahrain International Air Show 2016. Aircraft enthusiasts compared it to Pakistan's JF-17 Thunder that was produced with China's help.
The First Flight: Light Combat Aircraft Tejas soars high after being inducted into Indian Air Force, in Bengaluru. pic.twitter.com/ZDIUkaldh7

— ANI (@ANI_news) July 1, 2016
Multi-religious prayer ceremonies being held at the induction ceremony of Tejas aircraft into the Indian Air Force pic.twitter.com/ThqsVq537S

— ANI (@ANI_news) July 1, 2016
Air force officers break coconuts prior to induction of Tejas aircraft into IAF in a multi religious prayer ceremony pic.twitter.com/Gz4PxfNAFB — ANI (@ANI_news) July 1, 2016
The light combat Aircraft Tejas inducted into the Indian Air Force. pic.twitter.com/N1W6qlO8cg

— ANI (@ANI_news) July 1, 2016
Crew members of 1st squadron of Light Combat Aircraft (LCA) Tejas, in Bengaluru, after aircrafts' induction in IAF. pic.twitter.com/we1CCutQNd — ANI (@ANI_news) July 1, 2016