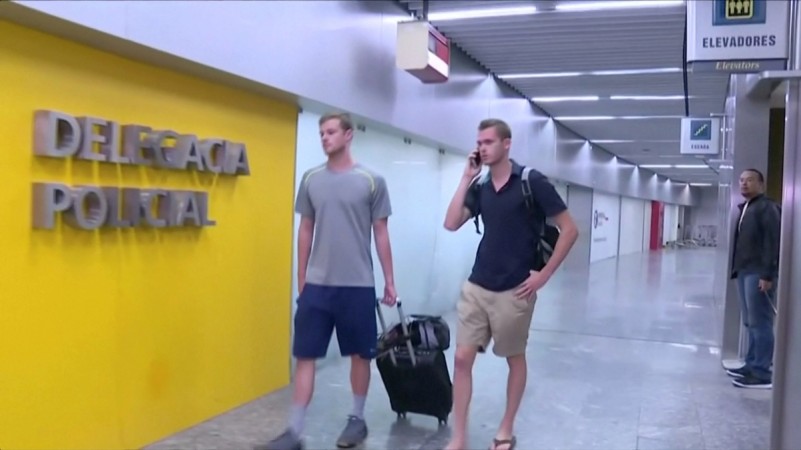 Two American swimmers Jack Conger and Gunnar Bentz were not allowed to board a plane out of Rio late on Wednesday evening. The Brazilian police wanted to conduct a probe on their complaint that they and their colleague Ryan Lochte had been robbed.
The two swimmers claimed that they were with Ryan Lochte when he had complained to the local police that he was robbed on Sunday morning.
The Brazilian Police, while investigating the alleged robbery, are said to have come to the conclusion that nothing of the sort had taken place, and that Lochte had filed a false complaint. As the two swimmers were the only ones who had supported Lochte's complaint, the local police decided to detain them within the country. Also, Lochte had already returned to the U.S. and the authorities could not talk to him.
"We can confirm that Jack Conger and Gunnar Bentz were removed from their flight to the United States by Brazilian authorities. We are gathering further information," a spokesperson for the United States Olympic Committee was quoted as saying by the media.
The athletes had also claimed that they were allegedly robbed at gunpoint by attackers who were dressed up as local police, when they were on their way back to the athletes' village from a party, the Guardian reported.
According to the officials of the U.S. Olympic team, Conger and Bentz were released after they had agreed to remain in Brazil and speak to the investigators about the episode again on Thursday.
Following the news of the two athletes being taken into custody by Brazilian authorities, the U.S. state department said, "We have seen media reports that two U.S. citizens were detained. We stand ready to provide all appropriate consular assistance," John Kirby, U.S. state department spokesperson was quoted as saying by the Guardian.
Many Brazilians were left wondering if the athletes had lied about the entire incident. The idea that prominent athletes such as Ryan Lochte could be robbed during the Olympic games by police personnel could turn into a huge embarrassment for Brazil, The New York Times reported.
Giving contradictory statements
The two detained swimmers reportedly gave contradictory accounts about Sunday's incident.
According to a local Brazilian judge, the men said that the robbery took place when they were on their way back to the hotel on Sunday morning at around 4 a.m. local time. However, video footage showed the swimmers leaving the club at a different time, NBC news reported.
In another instance, Lochte had told the local police that there was one robber, while Feigen said there were more than one, and one of the robbers had a gun.