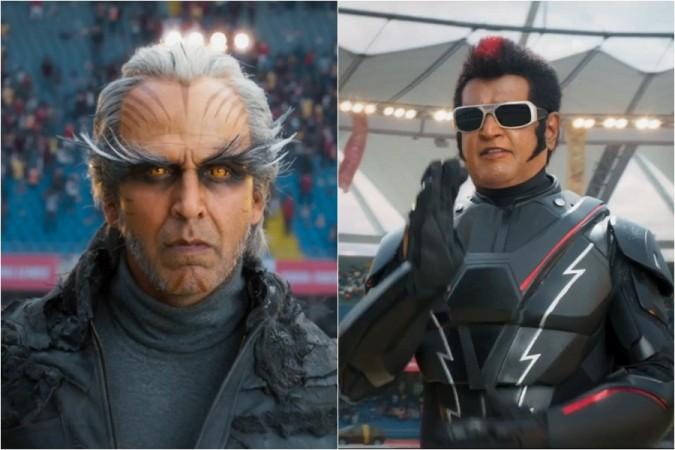 Rajinikanth and Akshay Kumar's 2.0 trailer has finally released online and the Shankar directorial is not what you would've expected all this time.
The 2-minute-6-seconds video shows a powerful alien force Dr Richard/Crowman (played by Akshay Kumar) targetting the man-made invention of handheld devices (mobile phones to be specific) and vows to eliminate the human race for making the technology a part of their daily life.
Scientist Vaseegaran (played by Rajinikanth) brings back an updated version of his mega robot named Chitti aka 2.0 (also played by Rajinikanth) into the play to defeat Dr Richard who has an incredible ability to turn into any shape and size using the captured mobile phones from across the earth.
The trailer, however, doesn't give away the reason for audience to understand why exactly Dr Richard hates mobile phones and wants to eliminate human race for using it. The video then gets flooded with larger than life fighting sequences between 2.0 and Crowman and they simply destroy everything in their path with their supernatural abilities. But the poor VFX takes the life out of the visuals narrowing it down, looking like a mere 90s video game.
Having spent almost $75 million for special effects, the final outcome doesn't seem to have fallen into the right place. It is being said that 2.0 is more expensive than several successful Hollywood VFX movies like Deadpool, X-Men and Batman which had a lot better and most importantly believable visual effects than 2.0.
The new addition to the film, Amy Jackson gets introduced as another mega robot created by Vaseegaran but she doesn't get the much-required screen time to showcase her abilities. She mostly acts as a prop in her blink and miss appearance in the trailer and doesn't do much than sexually attracting 2.0 and clinging onto it like a magnet.
Shattering our huge expectations into small pieces, 2.0 trailer has come as a major disappointment not just to the eye but to the soul as well.
Watch 2.0 trailer here: