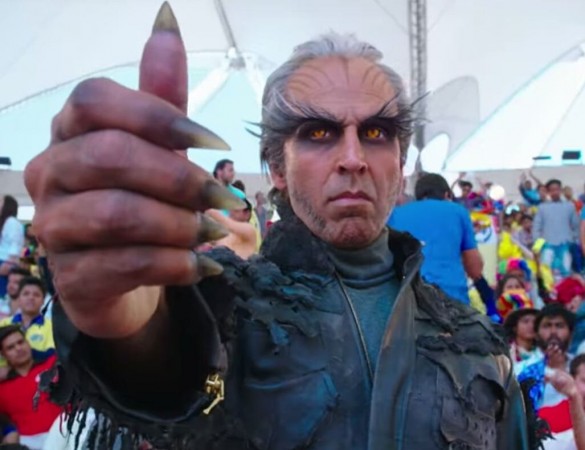 The teaser of 2.0 is out, and it has been making a lot of noise on social media. While some liked the teaser of the movie and some did not like it, there are many Akshay Kumar fans who are disappointed due to the limited screen presence of the actor in the teaser.
The teaser of 2.0 impressed many with its VFX, but many of Akshay's fans are upset with it. The Bollywood actor is seen in just two scenes in the teaser, which did not go down well with the Akkians.
With the inclusion of Akshay, Rajinikanth starrer 2.0 did not remain just a south Indian film, but turned into an Indian movie, targeting all the masses. Akshay plays the main antagonist in the movie, which made fans even more excited.
Akshay, who sports an evil crow avatar, is seen just for a few seconds in the teaser, and this made fans wonder if the actor has any significant role in the movie or not. Many even expressed concerns if the Gold actor been given the role in order to just attract Hindi audience, who generally do not pay much attention to South Indian films otherwise.
There are a number of reactions on social media, expressing disappointment due to Akshay's lesser screen presence in 2.0 teaser. However, there are some others who opined that the Bollywood actor will have more time space in the trailer of the film.
I thought it is a Indian film but it is only a tamil movie... As Akki fan totally disappointed... Seems Akki is having 5-6 scenes that to lure hindi audience... Won't cross bahubali 2 for sure...

— jaat singh (@AnkitBh55250512) September 13, 2018
Sir personally i Don't like the teaser as it was a leaked teaser,almost everyone already saw it,Not worth waiting @LycaProductions why don't you make new teaser ? Lazy people ,also didn't saw a akshay kumar's dialogue .Don't cry for hindi collections.

— Cartoon (@Games0fCart00n) September 13, 2018
@shankarshanmugh @akshaykumar @LycaProductions Sir please get another teaser because Hindi belt audience are not liking the teaser because of 2 reason - bad VFX and Akshay Kumar small presence please make another teaser as early as possible,else it will effect on box-office.

— Shailendra Singh (@Shailen52718180) September 13, 2018
Meanwhile, a lot of expectations are associated with 2.0, which is India's highest budget film to date. Made on a budget of Rs 543 crore, the sci-fi movie has a lot at stake. While the teaser did not reveal much about the plot of 2.0, fans are now eagerly waiting for the trailer.