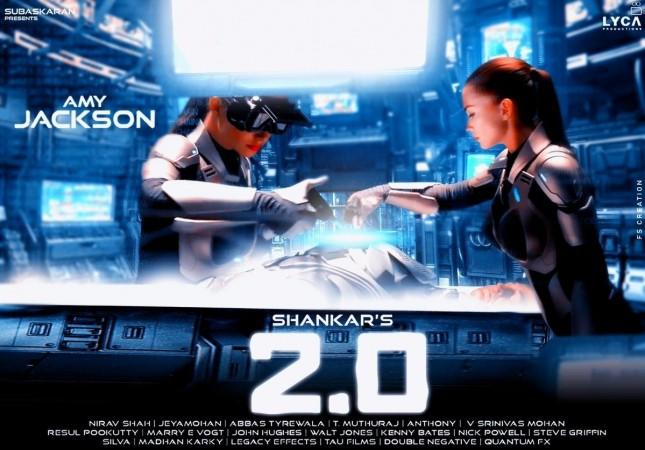 The advance booking for the ticket of Rajinikanth's 2.0 has started in Bengaluru. Around 10 single screens have started selling tickets for the mega-budget movie, which will be released on November 29.
Balaji, Chandrodaya, Murali Gokula, Pruthvi, Sri Krishna, Sri Rajamurali, Sri Srinivasa, Sri Vajreshwari and Urvashi theatres in Bengaluru have opened windows for online booking. The fans' show will begin as early as 4 am in Pruthvi, while other theatres have decided to start their first shows at 6 am. It has to be noted that the pre-booking is for the Tamil version.
For the special morning shows, the admission rates have been increased in a few theatres. Indeed, the audience will have to shell out an extra price as the Rajinikanth-starrer is a 3D movie. "Even if the theatres do not have a 3D facility, viewers have to shell out an extra amount as it is a mega-budget flick," says an industry insider. The tickets for the shows are selling like hotcakes despite the price of the tickets being sold at a minimum price (balcony class) of Rs 200 and maximum at Rs 400 at this stage.
The tickets are yet to be sold by multiplex chains and the full-fledged booking for the Shankar-directorial across the state is yet to commence. Sources say that the single screens will have at least five shows on the opening day across Bengaluru and the advance booking for the Telugu and Hindi versions will begin in the next few days.
2.0 will release in over 300 screens in Karnataka in three languages – Tamil, Telugu and Hindi. However, there is a demand for the movie to be dubbed into the Kannada language.
Meanwhile, the advance booking for 2.0 in Tamil Nadu and major parts of India are yet to commence. It is likely to begin in many centres this weekend. Whereas in Hyderabad, the Asian Group's multiplex chain has started selling tickets for the Telugu version of 2.0 and it has met with a stupendous response.
Advance Booking in Gulf
The pre-booking has started in Qatar where Asian Town and City Center are selling tickets for the first few days. However, it is yet to start in Oman and Dubai.
The Lyca Productions-funded movie, which also has Akshay Kumar and Amy Jackson in the leads, has been made with a whopping budget of Rs 570 crore.