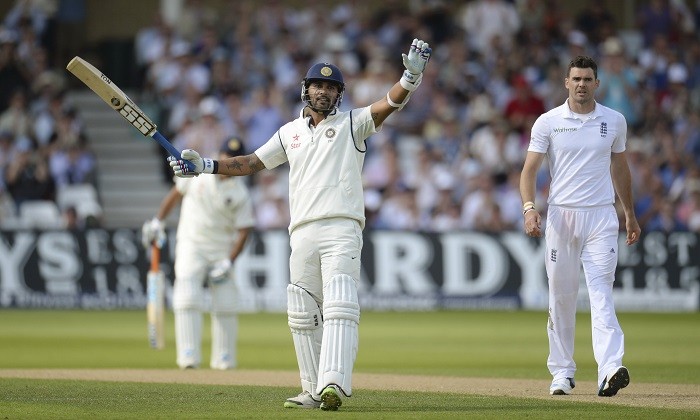 First morning of the first Test of a five-Test series in England, expect a hostile pitch with plenty of movement, both on and off the pitch, right?
Well, not if you were at Trent Bridge on Wednesday, with the pitch playing more like ones you see on the subcontinent – slow, low, no swing, no seam, with the best chance for a wicket coming once the ball starts to reverse swing.
India were the beneficiaries of this what-is-going-on-England-groans wicket, with Murali Vijay making hay while the sun shone on a gloriously bright day in Nottingham. The result of a flat as a pancake wicket at Trent Bridge was India, who chose to bat first, finishing on 259 for 4 after 90 overs of play, with Vijay on an unbeaten 122 (294b, 20x4, 1x6) thanks to a brilliantly moulded century.
MS Dhoni, batting at No. 6, after India decided to give Stuart Binny his debut at the expense of Rohit Sharma, is at the crease with Vijay, on a quite impressive 50 (64b, 5x4) with the second day holding plenty of promise for the batsmen, and quite a bit of toil for the bowlers.
India got off to a roaring start as Vijay fashioned three boundaries off James Anderson in the very first over with the visitors jumping to 30 after just six overs.
Immediately it was pretty clear this pitch would not provide too much movement – in the air or off the pitch – even in the first few overs, and some innovative, planned bowling would be needed to break through the batsmen.
Shikhar Dhawan (12, 24b), though, did fall to a peach of a delivery from Anderson, who came around the wicket, got the left-hander to just hand his bat out with the ball straightening at the right moment to take the outside edge through to wicketkeeper Matt Prior, who took a smart catch diving to his left.
India's momentum was not quelled by the opening wicket, however, as Vijay, at his driving through the offside, onside and fending the ball to third man for a boundary best, and Cheteshwar Pujara, solid as ever, kept the scoreboard ticking, with the England bowlers looking like they were toiling on a sub-continent wicket rather than at home on the first morning of the first Test.
The duo, who put on 73 in a little over 24 overs together, took India to a strong 106 for one in 30 overs at Lunch, looking all set to build that even-bigger platform for a strong first innings score.
England, with plenty of talk, no doubt, happening during the 40-minute interval, came into the second session of the first day with a clearer plan and it worked, with the 30-odd overs old ball starting to reverse swing as well.
Anderson (21-6-70-2) is a great exponent of the reverse swing and the swing bowler would get his and England's second wicket in the second over of the post-Lunch session courtesy some smart captaincy and bowling. England kept two fielders close on the leg side with the ball tailing in prodigiously and the fact that the slow pitch meant the ball was holding up more and more as it grew older meant a mistimed flick through the leg side from Pujara (38, 69b, 7x4), with Ian Bell taking a brilliant diving catch to his right at short mid-on.
That wicket put India on 106 for two, and soon it was 107 for three as Virat Kohli unnecessarily fended at a wide-enough-not-to-go-anywhere-near-it outswinger from Stuart Broad (19-8-26-1) with Bell, for the second time in two overs, completing another catch, this time at second slip.
The Indian dressing room would have been feeling the jitters at that point, knowing their lower middle order had plenty of question marks hanging around them, but Vijay, undeterred by the quick flurry of wickets, and Ajinkya Rahane (32, 81b, 4x4), solid enough, despite a few scares here and there, pulled their team out of worried waters with a knuckle-down 71-run partnership from 27.1 overs.
The two batsmen, weathering that second session storm, took India to 177 for three at Tea, before another wicket right at the beginning of a session put India behind the eight ball again. This time it was Rahane, who had to walk back to the pavilion, toe-edging a pull shot attempt, strangely enough, to Alastair Cook at silly point as Liam Plunkett's (21-4-56-1) short barrage finally paid some dividends.
Time was ripe for Dhoni the batsman to step up outside the subcontinent, and the skipper did not disappoint, playing a wonderful little counter-attacking innings to soothe those nerves and allow Vijay to carry on with immense calm at the other end.
Vijay, who like Dhoni, has struggled measurably outside home conditions, rarely played a loose stroke, keeping that concentration on high gear throughout his innings, with all of that hard work rewarded by a century, which the opener got to, after a lot of time being stuck on 99, with a quick single to the leg side.
India had one final tricky little period to negotiate to ensure they end the first day with a positive feeling, and Vijay and Dhoni, on an unbroken partnership of 81, did just that, seeing off the second new ball, taken by England in the 82nd over, to take the visitors to a could-have-been-better-but-will-definitely-take-it 259 for four.