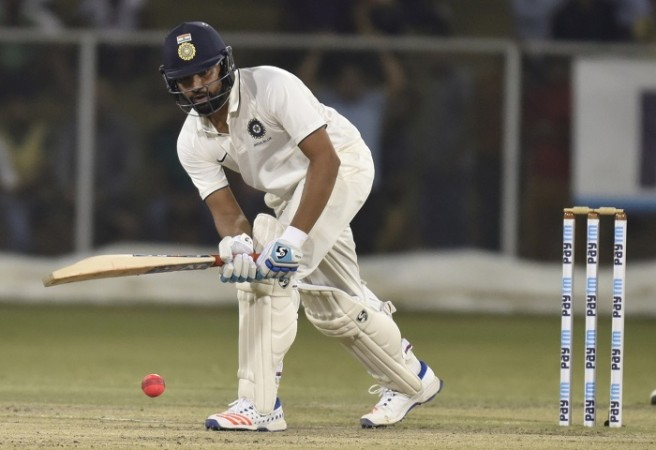 No Ishant Sharma for India, no Tim Southee for New Zealand – so that has evened itself out, going into the first Test in Kanpur on Thursday. India have a fair few other playing XI questions to answer, though, and Virat Kohli and Anil Kumble will know getting the team balance right is paramount if the home team are to make the perfect start to the series.
So, should they go with five bowlers or strengthen that sometimes-iffy batting lineup a little more by adding the extra batsman? With the pitch in Kanpur set to be on the drier side, one that will help the spinners, albeit with slow turn, Kohli and Kumble might go for what will be the safer option of playing the extra batsman.
If the net session on Tuesday is anything to go by, it looks as if the team selection think-tank still haven't quite made up their minds. Both Cheteshwar Pujara and Rohit Sharma were a part of the main batting unit that faced the stronger bowlers in the nets, suggesting the possibility of India playing the extra batsman. If that does happen, it would go against what Kohli has espoused to anyone who would listen since taking over, and that is the fact that bowlers win matches, and getting in as many options as possible gives India the best chance at victory.
Going into a series, thinking "better pad up our batting to be on the safe side," is not the kind of tone you want to set, particularly if you are the home team. So, backing the five specialist batsmen – and Wriddhiman Saha, R Ashwin, Ravindra Jadeja, Amit Mishra and Bhuvneshwar Kumar (if he plays) – to do what they are supposed to do, would be the better way to go about it.
Kohli has thought along those lines more often than not, and more often than not, that thinking has been rewarded with solid results. However, with New Zealand expected to go into this Test match, India's 500th, with a potentially-potent spin attack of Ish Sodhi, Mark Craig and Mitchell Santner, it looks like that six batsmen theory is going to come into play.
"We spoke about solidifying the batting a little bit more," Kohli told reporters, suggesting both Rohit and Pujara will play.
So, who will the four bowlers be? Three spinners seem like a must, so Ashwin, Jadeja and Mishra look like playing, with one of Bhuvneshwar Kumar, Mohammed Shami and Umesh Yadav being the only pace bowler. Umesh is an effective reverse-swing bowler, which means he is not quite out of the running yet, but going by form and recent performances, it is likely to be one of Bhuvneshwar or Shami, if India go with six batsmen, and both, if they go for five bowlers.
New Zealand also must decide on whether to go with all three spinners, or just play the two. The fact that all three spinners are different helps, and what Mike Hesson, the coach, and Kane Williamson, the captain, need to decide is who the most effective will be on this wicket. If they feel all three, they might just take a gamble and go with all of them.
One player who will definitely not be considered, though, is Jimmy Neesham, after the all-rounder was ruled out of the first Test owing to a rib injury, picked up in training last week.
The Kiwis also need to make a decision on their openers, after Luke Ronchi made a case for inclusion with a century in the tour game against Mumbai. However, Guptill, despite his struggles, is expected to keep his place in the team, at least for the first Test, even if New Zealand have the option of dropping the opener down to the middle order, with Ronchi then coming in at the top.
Confirmed playing XI: India: Murali Vijay, KL Rahul, Cheteshwar Pujara, Virat Kohli (C), Ajinkya Rahane, Rohit Sharma, R Ashwin, Wriddhiman Saha, Ravindra Jadeja, Umesh Yadav, Mohammed Shami.

New Zealand: Martin Guptill, Tom Latham, Kane Williamson (C), Ross Taylor, Luke Ronchi, BJ Watling, Mitchell Santner, Mark Craig, Ish Sodhi, Neil Wagner, Trent Boult.