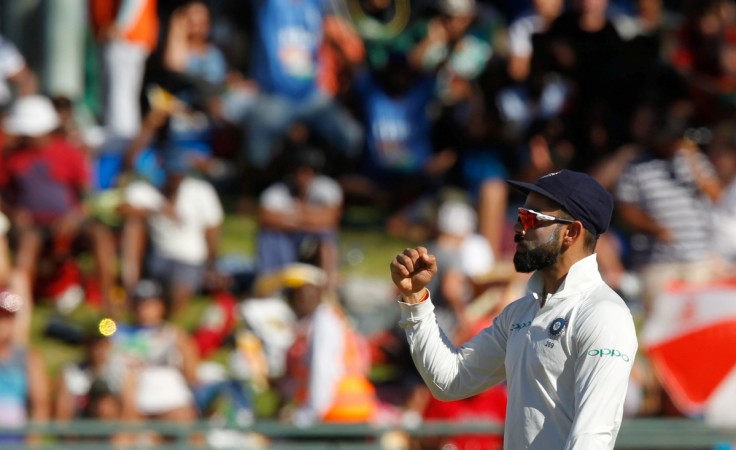 After the third day's play was washed out, an interesting battle is set to unfold between South Africa and India in the ongoing first Test at Newlands, Cape Town, today (January 8). And here is former captain Sunil Gavaskar's advice to India captain Virat Kohli.
South Africa are ahead by 142 runs. They resume from 65/2 with Hashim Amla (4) and nightwatchman Kagiso Rabada (2) at the crease. Rain forced yesterday's play to be called off without a ball being bowled. In the first innings, India were bowled out for 209 in reply to the home team's 286. Hardik Pandya topscored with 93.
Now, the onus is on Indian bowlers. They need to restrict the Proteas batsmen for less then 300 and hope to chase it in the fourth innings. The hosts are a bowler short with paceman Dale Steyn out injured.
Speaking to Sony TEN1 TV ahead of today's play, Gavaskar called upon Kohli to be "smart" and also take advice from the dressing room.
"Yes. Slip positioning should be little bit better. First and second slips are little too close as if they are concroaching into each other's territories. They have to widen. It is all about being smart today.
"If Virat can be smart, take inputs from coach and support staff...while on field you are so pressed and you don't see the obvious. Perspective from the support staff can make a big difference," Gavaskar said when asked about Kohli's role today as a leader.
Gavaskar, who is part of the host broadcaster "Supersport" TV's commentary panel, said India needed to take four wickets in the opening session. He wanted Kohli to have "smart field placings" and not give away easy boundaries.
India have never won a Test series in South Africa. This is a three-Test rubber.
South Africa vs India Fixtures
Tests (3)
1st Test: 5 to 9 January (Friday to Tuesday), Newlands, Cape Town, 2 PM IST (10.30 AM Local, 8.30 AM GMT)
2nd Test: 13 to 17 January (Saturday to Wednesday), Supersport Park, Centurion, 1.30 PM IST (10 AM Local, 8 AM GMT)
3rd Test: 24 to 28 January (Wednesday to Sunday), New Wanderers Stadium, Johannesburg, 1.30 PM IST (10 AM Local, 8 AM GMT)
ODIs (6)
1st ODI (Day/Night): 1 February (Thursday), Kingsmead, Durban, 4.30 PM IST (1 PM Local, 11 AM GMT)
2nd ODI: 4 February (Sunday), Supersport Park, Centurion, 1.30 PM IST (10 AM Local, 8 AM GMT)
3rd ODI (D/N): 7 February (Wednesday), Newlands, Cape Town, 4.30 PM IST (1 PM Local, 11 AM GMT)
4th ODI (D/N): 10 February (Saturday), New Wanderers Stadium, Johannesburg, 4.30 PM IST (1 PM Local, 11 AM GMT)
5th ODI (D/N): 13 February (Tuesday), St. George's Park, Port Elizabeth, 4.30 PM IST (1 PM Local, 11 AM GMT)
6th ODI (D/N): 16 February (Friday), Supersport Park, Centurion, 4.30 PM IST (1 PM Local, 11 AM GMT)
T20Is (3)
1st T20I: 18 February (Sunday), New Wanderers Stadium, Johannesburg, 6 PM IST (2.30 PM Local, 12.30 PM GMT)
2nd T20I (D/N): 21 February (Wednesday), Supersport Park, Centurion, 9.30 PM IST (6 PM Local, 4 PM GMT)
3rd T20I (D/N): 24 February (Saturday), Newlands, Cape Town, 9.30 PM IST (6 PM Local, 4 PM GMT)