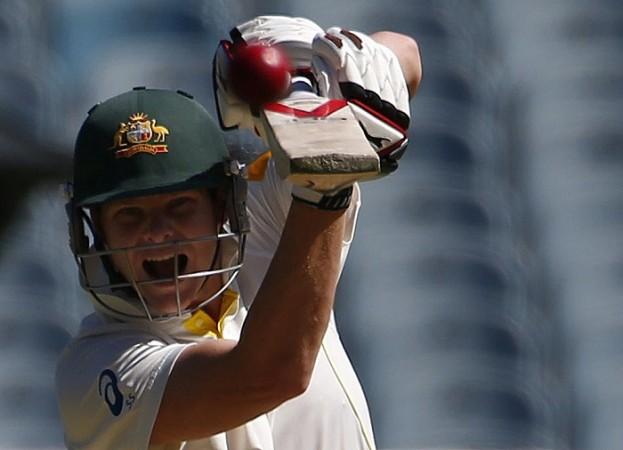 1 pm: It does look like it might be the end of the day's play with the big covers on, and if it is, props to Steven Smith for the brilliant century, unconquered one at that. Clarke showed just why he is the leader of this Australia team with a brilliant, fighting, pushing-past-pain century as well, with Australia, when play was possible on Day 2 of this 1stTest in Adelaide, dominating from ball one.
India's story can be told by the fact that three of their four main bowlers went for well over 100 runs, with Ishant Sharma conceding 85.
Yup, it is stumps and the end of day two. Play will start early tomorrow at 10 am local time, 5 am IST. Australia finish on 517/7 from 120 overs after smashing 163 runs in 30.4 overs on the second day.
Bowling figures: Shami: 24-2-120-2. Aaron: 23-1-136-2. Ishant: 27-5-85-1. Karn: 33-1-143-2.
12.57 pm: No declaration from Australia with 12 overs to go. But, the no-declaration had probably more to do with the bad light and the fact that the likelihood of finishing the remaining overs were extremely unlikely.
Clarke, as he has shown in the past, is never shy of declaring early, but, the weather probably played its part in the decision.
Australia 517/7 in 120 overs. Smith not out on 162 (231b, 21x4) with Mitchell Johnson batting with him.
12.55 pm: Play stopped, bad light.
12.50 pm: Clarke is gone, finally!
The skipper goes for a hoick, gets a thick inside-edge and Cheteshwar Pujara takes the catch at square-leg with Karn Sharma picking up the wicket. The partnership worth 163 runs is finally broken a ball after Ishant Sharma dropped a catch in the deep. First wicket of Day 2 for India. Australia 517 for seven. Clarke dismissed after a fighting, remarkably wonderful 124 (163b, 18x4).
12.49 pm: A few slogs, a reverse sweep or two, a couple of boundaries, but still no wickets for India. Australia 516 for six in 119 overs. Clarke 128, Smith 161. Partnership 162 runs.
12.41 pm: Half-chance gone begging. Clarke top-edges one to the leg side off Ishant and the ball just falls a tad short of Ajinkya Rahane. Australia chugging along courtesy five wides from a "please take this gift" Ishant. Home side corsses 500. Score 501 for six in 117 overs. Still no declaration, though.
12.36 pm: Kohli drops a chance. Smith edges one off Karn to first slip, but Kohli reacts way too late and another chance to dismiss Smith is gone. Australia 494 for six in 116 overs.
12.33 pm: Smith gets to 150. The right-hander crosses that particular mark with a dab to leg side. Australia, though, have not quite been able to hit the boundaries like they were doing before the final rain interruption. Australia 487 for six. Smith 150, Clarke 115.
12.25 pm: Singles the order of the first two overs since resumption. Australia 482 for six in 113 overs.
12.20 pm: Karn Sharma bowls the first over, no boundaries, but five singles. Australia 478 for six in 112 overs.
12.12 pm: Play will begin at 12.20
11.55 am: Rain has stopped. But it remains to be seen when play can start.
11.35 am: It's still raining in Adelaide, and with light not good to begin with, it does look like a real possibility that we will get no more play today.
11.01 am: And play has been stopped again! Rain just does not go away, and with the light pretty bad as well, the umpires ask the players to walk off the field. Australia 473 for six in 111 overs.
11 am: Shami, so disappointing today, is back in the attack. Smith still looking for a boundary every ball. The intentions are definitely more clear than the weather in Adelaide at the moment.
A glide down to third man fetches Smith another four, before a slap over the covers has the ball zooming to the ropes. Smith doing all the attacking here, with Clarke happy to watch from the other end, even if he did get one four as well, as he continues to ponder on the declaration. Australia 473 for six in 111 overs. Smith 142, Clarke 109.
10.54 am: Big stumping chance missed. Smith misses the ball after coming down the pitch to Karn Sharma, but Wriddhiman Saha, normally so reliable, drops the ball. Australia 460 for six in 110 overs.
10.52 am: The faster it is, the quicker it seems to be going to the boundary at the moment. Smith and Clarke have now gone into one-day mode, with Aaron getting the treatment. Slam-bang fest it is, with declaration probably coming soon, especially as the dark clouds keep hovering around over the ground. Smith having plenty of fun out there, smashing Aaron every ball, with three of them going to the boundary.
Australia 457 for six in 109 overs. Clarke 104 (137b, 15x4), Smith 131 (195b, 19x4).
10.43 am: No worries at all. Short balls also not doing the trick for India, with Varun Aaron trying to fire them in. Australia now looking to motor. 440 for six in 107 overs.
10.38 am: Australia in charge. 433 for six after 106 overs. Smith on 109, Clarke on 101.
10.34 am: Clarke gets to that magical mark! It was destined to happen wasn't it. Even if he was injured, Clarke was going to fight through the pain barrier and get to that century. Incredible stuff from the Australia captain.
A simple flick to the leg side and Clarke has that century. The celebrations are muted, just a kiss of the badge, but one can only imagine what is going through the mind of the right-hander – one thing is for sure, it will definitely involve Phil Hughes.
10.31 am: Clarke is welcomed with a short delivery or two. A single takes the the skipper to 99. The celebrations, if you can call it that, are going to be a sight to behold.
10.29 am: Vijay nearly gets a wicket as well, as Smith edges one to first slip, but the ball falls just short. Australia 423 for six. Smith 103, Clarke 98.
10.27 am: Players are back on the field.Playis about to resume. Murali Vijay to bowl.
10.18 am: Play will resume at 10.30 am. Hopefully we will get some sustained cricket.
10 am: Rain has finally gone away. Umpires are on the field, the covers are coming off. Start of play update soon.
The covers are coming off with the rain gone, for now. #AUSvIND pic.twitter.com/ktRZmTQCfC

— cricket.com.au (@CricketAus) December 10, 2014
9.19 am: Still no sign of the rain letting up just yet. The players in the Indian dressing room will be using this break to try and pick themselves up after a poor morning in the field.
8.38 am: And here comes the rain again! Stop start day this, with rain yet again stopping play. Smith and Clarke are given a standing ovation, with the skipper just two short of what will be the most emotional century you are likely to see. Australia in charge on 423 for six in 103.3 overs. Smith on 103, Clarke on 98.
8.27 am: Play has begun. Normal service resumed as well, Australia 421 for six, with Smith getting to his hundred. The right-hander jogs up to where the 408 has been printed on the ground, with more scenes of emotion lighting up Adelaide.
8.03 am IST: Rain comes back again! Just when the play was about to resume, that wet weather has come back. A little bit more waiting to do.
7.14 am: Covers are off. But, the umpires have called an early Lunch, and play will resume at 8 am.
7.01 am: The rain is still very much on, so no play on the horizon at the moment.
6.40 am: The rain is really pelting down right now, and thunderstorms were predicted for today. So a bit of a wait it looks like being.
6.38 am: Australia were cruising, with both batsmen on their way to centuries, but rain has stopped play. Australia are 405 for six in 101.4 overs with Smith on 98 and Clarke on 85.
6.29 am: Clarke, fittingly, brings Australia's 400 with a boundary in exactly 100 overs. Both batsmen closing in on their respective hundreds. Clarke 85, Smith 93.
6.23 am: Clarke fighting on, and the skipper might get some rest, with a bit of rain around Adelaide at the moment. Nowhere near enough to stop the game, but clouds are looming large. Australia 391 for six in 99 overs. Clarke 81, Smith 88.
6.14 am: You would have though the India bowlers would have taken advantage of the overcast conditions. That has not been the case, though. To be honest, there has been nothing for the bowlers again – no movement off the pitch or in the air. But, India have not helped themselves, not bowling in the right areas, with Shami, in particular, disappointing again. Australia 390 for six. Smith 88, Clarke 80.
6.10 am: Karn Sharma is given the ball. Not too much trouble for Australia, though. But, having said that, it is quite clear Clarke is struggling immensely with his back. Any short ball from the fast bowlers and that back is reminding him of the pain.
Off the spinners, though, Clarke has no problems, hitting a wonderful boundary through the leg side. Australia 388 for six after 96 overs. Smith 87, Clarke 79
6.01 am: The feet are not moving, but it seems like Clarke has decided to be as aggressive as possible and score as many runs as possible as quickly as he can. India bowling the short ball to him, but anything pitched up or wide is going to the ropes. Australia 381 for six in 94 overs. Smith 86, Clarke 73.
5.56 am: Couple of boundaries for Smith off Ishant, one a streaky one. But, Australia looking good already. 374 for six.
5.51 am: Clarke is off and running as well with another gift put away. The captain does look like he is struggling with his back, though. Australia 366 for six in 92 overs. Smith 77, Clarke 67.
5.47 am: that early boundary relaxes Smith, and even if Ishant bowls better the next five deliveries, it is seen off comfortably enough by the Aussie. 358 for six in 91 overs. Smith 76, Clarke 60.
5.43 am: Ishant Sharma to bowl, and Steven Smith begins Day 2 with a boundary. Short and wide and gets the treatment.
5.42 am IST: The back must be hurting him, but those injections seem to be working for now. Clarke negotiates the first over of the day, the remaining four balls from Mohammed Shami. Australia 354 for six in 90 overs.
5.40 am IST: We're about to start, Steven Smith is at the crease and it is Michael Clarke with him.
5.30 am IST: There will be a slight delay after all. It is quite overcast in Adelaide, and the match will start about ten minutes late, I'm hearing.
It is still quite overcast in Adelaide, very much in contrast from day one, when the sun shone, particularly on David Warner.
5.27 am IST: Michael Clarke has batted in the nets today, which suggests the skipper will be able to come out and bat when required.
Clarke had to go off injured on day one of the first Test with that back problem flaring up again. The Australia skipper was on 60, and it looks like he will pick up, or at least try to, from where he left off yesterday. Read about everything as it happened on Day 1 HERE.
5.25 am IST: There was a slight drizzle at Adelaide, but it has gone now and the match is expected to start on time.
Welcome back to IBTimes India's live blog of the first Test, with Day 2 taking centre-stage.
Australia are on 354 for six in 89.2 overs after day one, with Steven Smith unconquered on 72. Australia will rely on their baby-faced lethal right-hander to carry them well past 400 on Day 2 morning, but much will depend on what kind of support he receives at the other end.
India fought back a little towards the end with three late wickets, wickets which helped temper what was otherwise a poor day on the field with David Warner striking a magnificent 145.
The onus is on the India bowlers to stand up and deliver and pick up those final four wickets – or three, depending on Michael Clarke's injury status – to allow their batsmen to overhaul Australia's first innings total.
You can watch Day 2 action of India vs Australia via live streaming as well.