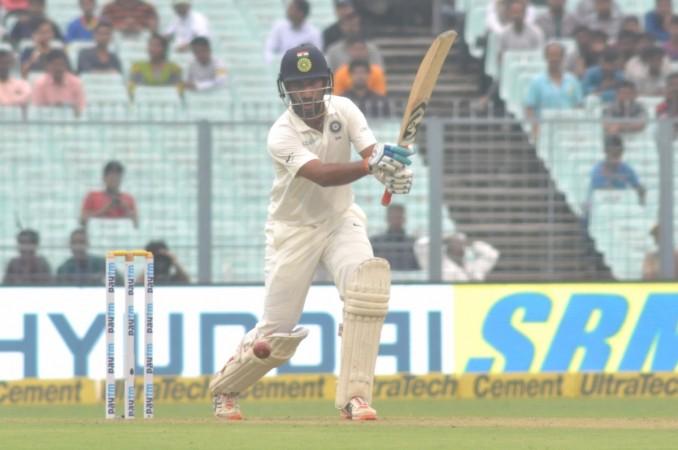 As Indian batsmen get ready to face the South African bowlers on the second day of the first Test today (January 6) in Cape Town, batting legend Sunil Gavaskar has some advice for Rohit Sharma and the rest of the batting unit.
Yesterday (Janaury 5), India bowled out the Proteas for 286 but later found themselves in trouble at 28/3 by stumps. Now, Cheteshwar Pujara (5) and Rohit Sharma (0) resume the battle.
Speaking on Sony TEN1 TV, before the start of play, 68-year-old Gavaskar said it will be a "task ask" for India at Newlands stadium. "It will be a tough ask for India," he said from the ground. He felt the first session is "loaded in favour of South African bowlers".
When asked on how to play the moving ball, Gavaskar advised the Indian batsmen to "play late as possible".
"Wait and play late as possible. Instead of reaching for the ball, let the ball come to you. The later you play the more chance you have to negotiate the moving ball," the former captain said.
Gavaskar opined that most of the batsmen in the Test were in one-day mode. "They were in stroke-playing mode, in one-day mode. They were playing too many shots," he said.
Gavaskar wanted the duo of Rohit and Pujara to look for more singles and put pressure on the Proteas.
"They (Pujara and Rohit) should looking for singles. The running between the wickets is important they should put pressure on the oppostion," he said.
On the surface for Day 2, he explained, "The pitch hardens on Day 2 and 3. There will be more bounce. The grass is still there. With the sun beating down one expected the grass to die down but it has not died."
Gavaskar, the first batsman to score 10,000 Test runs, wanted Rohit and Pujara to bat like AB de Villiers and Faf du Plessis, who hit half centuries yesterday. The South African pair put on a century partnership for the fourth wicket.
"The batsmen need to be patient. They (Pujara and Rohit) need to take a leaf out of AB de Villiers and Faf du Plessis book. Rohit should play like AB and Pujara like Du Plessis," Gavaskar advised.
South Africa vs India Test fixtures
Tests (3)
1st Test: 5 to 9 January (Friday to Tuesday), Newlands, Cape Town, 2 PM IST (10.30 AM Local, 8.30 AM GMT)
2nd Test: 13 to 17 January (Saturday to Wednesday), Supersport Park, Centurion, 1.30 PM IST (10 AM Local, 8 AM GMT)
3rd Test: 24 to 28 January (Wednesday to Sunday), New Wanderers Stadium, Johannesburg, 1.30 PM IST (10 AM Local, 8 AM GMT)