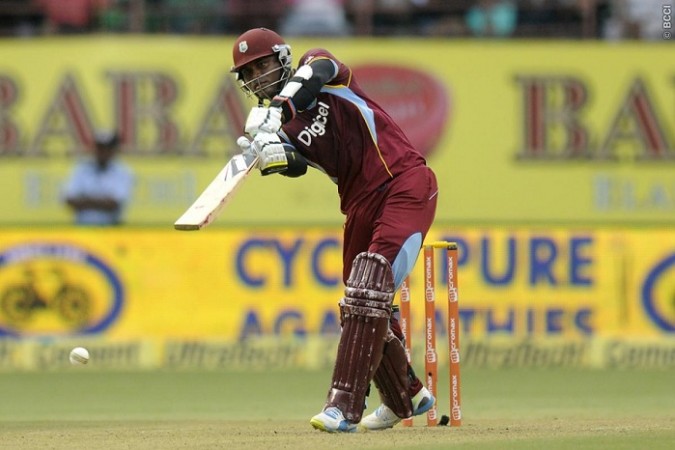 What better way to kick away those we-are-not-happy-with-our-contracts blues than by putting in a performance worthy of thrashing the number one ranked ODI side in the world.
The West Indies team, after doing a lot of talking off the field (via a couple of letters), needed to smash that bad vibe away with some seriously good cricket on the field against India in the 1st ODI in Kochi, and boy did they do just that by producing a dominating all-round performance to thump MS Dhoni and co. by a massive 124 runs to take a 1-0 lead in the five-match series.
West Indies set the tone for a big victory with a batting master class in the first innings, having been put to bat first by India in the first one-day international. Marlon Samuels, the mercurial right-hander, making a comeback into the West Indies side, played an innings and then some, striking a wonderful unconquered 126 (116b, 11x4, 4x6) to guide the West Indies to a massive total of 321 for six in their 50 overs.
The man to give Samuels company at the other end was the newly-minted batting maestro Denesh Ramdin, who just seems to get better and better with the bat, carrying on that tremendous form from the series against Bangladesh.
In reply, India were meek and bereft of quality with the bat, as they tamely surrendered to the West Indian bowlers, with that man Samuels again coming to the fore, by getting bowled out for 197 in just 41 overs.
It all started rather well for India, with Ajinkya Rahane, who impressed in the England series as an opener, and Shikhar Dhawan getting them off to a sound start, and ensuring that the run rate stayed near the six-run mark.
However, one calamitous run out and suddenly the Indian ship started springing up holes all over the place. A dab to the leg side saw Rahane complete the single and return back for a second, with Dhawan, whose call it most certainly was not, deciding against a second run. The result was both batsmen ending up at the same end and Rahane (24, 22b, 4x4) walking back to the pavilion after an innings which promised much.
Nothing much to worry about, though, right. After all, Rahane's wicket meant it was time for Virat Kohli to work his ODI magic on Indian shores once again. No batsman has been as instrumental for India in chases as Kohli, and the right-hander would have been a pretty good bet to do the same again.
Kohli's issues with that ball just leaving him, his bane throughout the England tour, came back to haunt him again, though, as Jerome Taylor found the inevitable outside edge with Darren Sammy completing a nice catch in the slips.
With Kohli (2, 5b) gone, Dhawan had to play a big innings, but he also needed some support at the other end. Ambati Rayudu (13, 21b, 1x4) refused to do that vehemently by throwing away his wicket with a ridiculously rash shot, while the man everyone wanted to see shine with the bat – Suresh Raina -- unfortunately, played one onto his stumps off his CSK teammate Dwayne Bravo.
India were still not entirely out of it as long as Dhoni (8, 21b) gave Dhawan company, and the India skipper, despite struggling for timing, hung around for nearly nine overs with the left-hander. But, that lack of form from the captain eventually found him out as Sammy got one to nip away just a touch to knock Dhoni's timber over.
The writing was on the wall by then, with Dhawan (68, 92b, 9x4) falling to the man of the moment Samuels soon after as India folded rather too easily, with the home team needing a last-wicket partnership worth 42 runs between Ravindra Jadeja (33 n.o., 36b, 2x4, 1x6) and Mohammed Shami (19, 17b, 2x4, 1x6) to ensure they at least got near that 200-run mark.
Earlier, there was a big question mark about whether we would even get a game in Kochi, and not because of the weather, but due to the fact that the WI players were considering going on strike over a pay dispute.
However, once it became clear the India vs West Indies series would get underway, with the players coming into the Nehru Stadium, the next question was would Dwayne Bravo and co. be able to put all of those off-field issues into the backburner.
An emphatic yes was the answer, as the West Indies played positive, a-boundary-for-every-bad-ball cricket to send the Indian fielders on a leather hunt.
Dwayne Smith played with a new opening partner in mould of the captain himself, with namesake Dwayne Bravo deciding to face that brand new white ball due to the fact that Lendl Simmons was unavailable through injury.
That decision was far from a disaster, as Dwayne Bravo played a couple of fantastic shots on his way to 17 (24b, 4x4), before perishing to Mohammed Shami (9-1-66-4) in the first ball of the eighth over while going for a typically Bravo-like flamboyant drive.
Another Bravo – Darren – joined Smith in the middle following the skipper's wicket and the duo put on a nice little 64-run partnership in just 61 balls. Smith (46, 45b, 4x4, 2x6) was obviously the aggressor, smashing those trademark fours and a couple of stand-and-deliver sixes, before falling to his CSK teammate Ravindra Jadeja, who castled the right-hander a ball after being hit for a big six.
West Indies were on 98 for two in the 18th over at that point, and the onus was on the team's two most solid batsmen – Darren Bravo and Marlon Samuels -- to build a bigger platform for the likes of Kieron Pollard and Darren Sammy to go slam-bang.
Darren Bravo, though, lost his head a little bit, with that seducer called the sixer enticing him to go for one more big shot, a ball after he had cleared the boundary, only to find the man in the deep. Amit Mishra, preferred to the exciting young chinaman bowler Kuldeep Yadav, picked up that particular wicket, but otherwise had a forgettable afternoon, giving away 72 runs in his ten overs.
Bravo's wicket, though, proved to be a blessing in disguise for the West Indians, as it brought in the in-form Ramdin, who allied for a brilliant 165 runs with Samuels in a mere 23.1 overs.
The right-handed duo played proper ODI cricket, not taking too many risks, but ensuring the bad balls got what they deserved, while they were also helped a little but by some below-par Indian fielding.
Samuels and Ramdin (61, 59b, 5x4, 2x6) took the innings away from the Indian bowlers, with MS Dhoni, the ridiculously unflappable man, also showing a little bit of emotion as boundaries rained at the packed Nehru Stadium. West Indies made merry in the batting Powerplay, so often the graveyard of the set batsmen, scoring 52 runs, before taking that momentum into the final ten overs.
After watching his batting partner ease his way to his sixth hundred, Ramdin fell in the 46th over to Shami, who was impressive in the death overs, hitting that yorker length with unerring regularity, as India pulled things back that wee bit. WI would not be denied a big score, though, with the Indian batsmen failing to chase down the big target under the lights in Kochi.