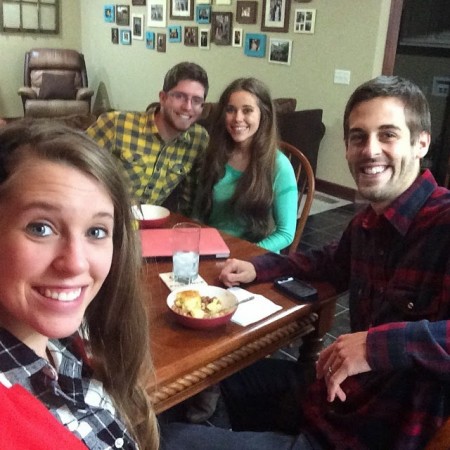 "19 Kids and Counting" stars Jill and Jessa Duggar are no longer fighting as has been reported, if their social networking activities are any indication.
The sisters were full of holiday cheer, and Jess recently posted one of her wedding pictures alongside Jill, writing, "So thankful for this sweet girl! Jill, you're such an amazing example to me of what it means to be a loving wife! I love you so much!! So blessed to call you my sister. @jillmdillard."
Jill also took to her Instagram account to record their Christmas festivities. The 23-year-old, who is six months pregnant with her first child, spent Christmas Eve with her husband's family and posted a group photo with the caption: "Great time with the Dillard relatives on Christmas Eve! #dillardfam #ChristmasEve #familytime."
Interestingly, the Duggar sisters' public display of affection comes shortly after several news reports claimed they have been feuding.
A recent report claimed that Jessa was jealous of her pregnant sister Jill and all the attention she has been getting due to the pregnancy. As per the report Jessa was also not too happy that Jill got pregnant shortly after getting hitched.
"Jessa feels like her sister keeps stealing her thunder," an insider told OK! magazine, according to Radar Online, adding that Jessa's one wish for the holidays is to get pregnant. "Now all she wants for Christmas is a positive pregnancy test," the source said.
Their different personalities and how the rest of the Duggar household treat the sisters have further created a rift between the sisters. For instance, while Jill is considered the family's golden child, Jessa is known for her sarcasm, noted Radar Online.
"Jessa resents that Jill is her parents' favorite, and she's pulling away from the family," another insider said. "And Jill doesn't approve of the choices Jessa is making."
"Jessa is able to live for herself now, without the crazy rules — and she is learning who she wants to be — but Jill stayed pretty much the same when she left home," the insider added.