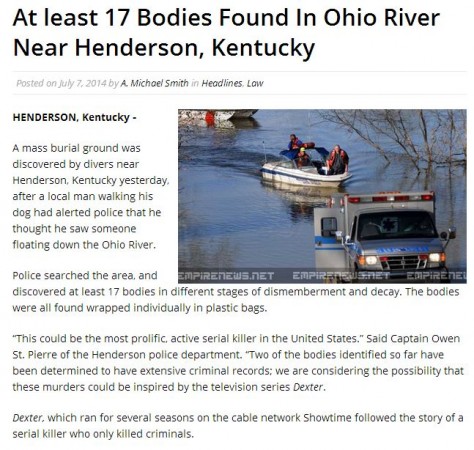 A hoax, which claims that at least 17 bodies were found in the Ohio River near Henderson, Kentucky, has been doing the rounds on the internet.
It was first reported by Empire News - a satire website. In the report, which was published on 7 July, the website stated that the police recovered 17 bodies, individually wrapped in plastic bags, from the Ohio River.
The website compared the news with TV show "Dexter", which tells the story of a serial killer who only killed criminals. And, the story went viral on Twitter, with several users believing that the news was real.
The website quoted Captain Owen St. Pierre of the Henderson police department.
"This could be the most prolific, active serial killer in the United States. Two of the bodies identified so far have been determined to have extensive criminal records; we are considering the possibility that these murders could be inspired by the television series Dexter," Owen said.
Another person from the search and rescue was also quoted by the satire website.
"Kentucky law requires that an attempt be made to resuscitate if possible," Joseph Goldsmith, a member of the search and rescue team, said. "I know it seemed to be a long-shot, given the body was in several different pieces, but they require us to make an attempt."
It further reported that the police is investigating and has questioned some of the street gang members.
The story came out after Kentucky.com reported that a human leg was found in the Ohio River.
Several readers fell for the hoax and posted the report on Twitter, saying that the killer is a "real life Dexter". The story went viral on Facebook and Twitter and got 58, 000 Facebook shares within hours.
Well there's a real life dexter on the loose throwin bodies in the ohio river so if your a criminal right now u fuckin up

— Cynthia Ballou (@CynthiaBallou) July 9, 2014
There's a serial killer out there recreating Dexter by sinking bodies in the Ohio river.

— Kelsey. ✨ (@kelss_mariee) July 9, 2014
17 bodies individually wrapped in plastic bags who had a criminal past found in the Ohio river ........ Dexter?!?

— juli (@jswizzle1118) July 8, 2014
Apparently someone in Ohio is killing criminals and dismembering them and throwing them into the water, imitating the show dexter 17 bodies

— Brandon Congleton (@B_Cong45) July 8, 2014
There is a Dexter in Kentucky...... At least 17 Bodies Found In Ohio River Near Henderson, Kentucky - http://t.co/HfIYzDJ9Je

— Sambino (@K_Sambor23) July 8, 2014
17 bodies all with criminal records found individually wrapped in the Ohio River & it actually says the killer may be inspired by Dexter — Amanda Moening (@moeningamanda) July 7, 2014
They just found 17 bodies in the ohio river. Most of the bodies had extensive criminal records. Uhmm is Dexter in the area?!

— Rob Spears (@Sonickid1234) July 7, 2014
THE IS A DEXTER IMPERSONATOR IN OHIO HOLY CRAP

— Taylor Ready (@tayyready) July 7, 2014