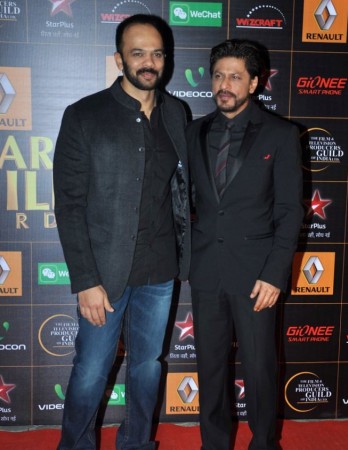 Recently, number 17 was associated with Shah Rukh Khan and his two upcoming films, but the actor took to Twitter to clarify the reports.
The "Happy New Year" actor on his Twitter wrote that he is neither playing a 17-year-old in "Fan" movie nor there are 17 actors in Rohit Shetty's upcoming film.
"And the number 17 where has this come from in one press con I did?! 17 stars In Rohit's film & I am 17 yrs old in Fan...both not true," Shah Rukh tweeted.
This week, two reports surfaced online linking Shah Rukh with the number 17. One report said that Rohit and Shah Rukh will cast as many as 17 actors in the upcoming film.
"The only thing we are keeping under the wraps is the title of the film, which will have 17 actors in all," SRK said, according to DNA.
While another report said that Shah Rukh will play 17-year-old in the forthcoming film "Fan".
"The film (Fan) is very different. I will be playing 17 years old and I'll take some help to do it. Perhaps with prosthetics, make-up or VFX," DNA quoted Shah Rukh as saying.
However, he cleared the air and said that none of the reports were true. But he also clarified why the confusion over the number 17 started.
"Got it! In a generic sense I said I cld b 17 yrs with techno in my nxt film in context of age-centric casts, so casting wl b character based," he tweeted later.
Shah Rukh is currently busy shooting the reality show "India Poochega Sabse Shaana Kaun?". Also, he has been working on three films as of now, including "Fan", "Raees" and Rohit's untitled film.