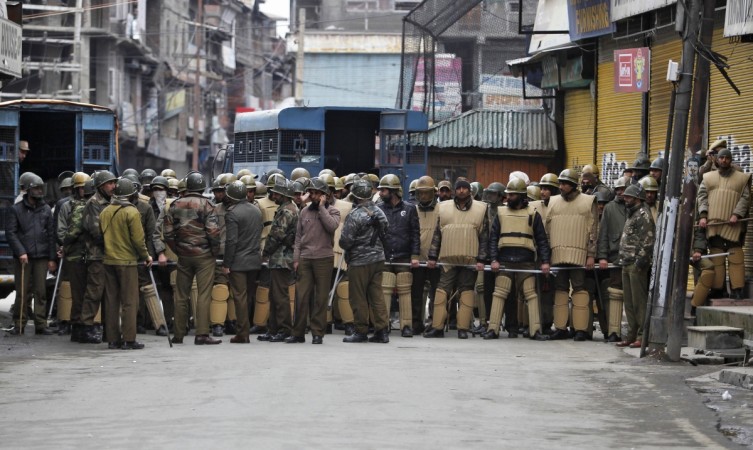 A group of 150 activists from 12 states started a march from Delhi to Srinagar Saturday to hand over the national flag to the outstation students at the National Institute of Technology (NIT), Srinagar, the ANI reported. The activists, who are calling the march 'NIT Chalo,' assembled in New Delhi and started on their journey on bikes, buses and cars.
Heavy security has been deployed at the NIT, Srinagar campus.
Meanwhile, the Amnesty International has urged the Jammu and Kashmir government to start an impartial criminal investigation into the allegations of excessive use of police force inside NIT campus. The AI said the NIT Srinagar incident adds to the disturbing trend of police violence inside university campuses. "Security forces have used excessive force with impunity in J&K in the past too," the AI said a tweet.
Tension erupted in the campus after police allegedly used force on a group of non-local students during a protest being staged by them. Two groups of students had earlier clashed after a few Kashmiri students are said to have celebrated the win of West Indies over India in a World Cup T20 match.
Even as the Union Human Resources And Development Minister, Smriti Irani, sent a two-member team to NIT Srinagar to pacify the non-local students, the situation in the campus continues to remain tense. Chief Minister Mehbooba Mufti, Deputy Chief Minister Nirmal Singh and Education Minister Naeem Akhter have assured the students of their safety.
Students, meanwhile, have boycotted the classes and demanded that the NIT be shifted out from Kashmir.
The parents of the non-local students have expressed concerns over the safety of their children there.
The central government is also planning to send 50 teachers from the various NITs and Indian Institute of Technology (IITs) of the country to NIT Srinagar, following the demands of the students that the local staff at the institute be replaced with non-local staff, the Indian Express reported.
Meanwhile, J&K Police has refuted allegations of the use of force on non-local students, by releasing a video that showed the students causing damage to the public property by throwing stones. Senior officials of J&K Police also vented out their frustration on twitter on being branded as anti-nationals, the India Today reported. The officers, some of whom have been at the forefront of anti-militancy operations, said they do not need a certificate of nationalism from anyone.