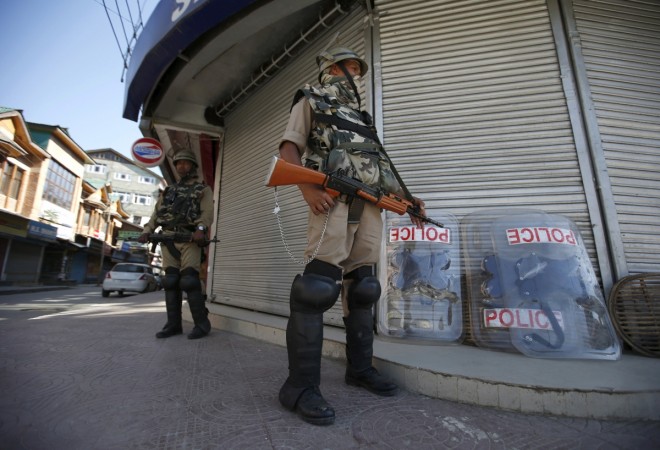 Amid rising tension over the clashes of Kashmiri and non-local students at the National Institute of Technology (NIT) Srinagar, the Central Reserve Police Force (CRPF) was deployed at the campus Tuesday.
The clash took place during the West Indies-India World Cup T20 semi-final match last week after the Kashmiri students allegedly celebrated the West Indies win. The non-local students, meanwhile, are said to have chanted Bharat Mata Ki Jai slogans and unfurled the Indian flag on the campus. The NIT authorities suspended classes after the clashes, in which several students were injured.
Both the central and state governments are keeping a close vigil on the NIT developments, especially after the recent incidents at the Jawaharlal Nehru University and the University of Hyderabad. Jitendra Singh, the Minister of State for Home, urged students to stay indoors and remain peaceful.
"Don't panic. If asked to stay indoors it is in your interest. Let not outsiders politicise. Your exam issue being taken care," MoS, Home tweeted.
Union Home Minister Rajnath Singh called Chief Minister Mehbooba Mufti and discussed with her the situation in NIT. A two-member team from the Human Resource Development (HRD) Ministry has also been sent to the campus Wednesday after a section of students alleged harassment and lathi-charge by the police.
J&K's Deputy Chief Minister Nirmal Singh said police resorted to force only after some students tried organising a protest march in the campus, the ANI reported.
The J&K Police said some non-Kashmiri students wanted the NIT campus to be shifted from the Kashmir valley, according to India today. The confrontation between the students and police took place when nearly 300 NIT students were trying to leave the campus, the India Today quoted police sources as saying.
Although the classes resumed today, the NIT, Srinagar campus is still under a tight security vigil. The institute has around 150 Kashmiri students and 1,800 non-Kashmiri students.
#HRD team reaching #NITSrinagar .No student should suffer disadvantage in exam score because of shut down #MyGovIndia

— Dr Jitendra Singh (@DrJitendraSingh) April 6, 2016
Spoke to #CMJammuandKashmir @mehbooba_mufti Boys @NITSrinagar stay calm.Exam issue of 3rd yr students taken up with #HRDMinistry #MyGovIndia — Dr Jitendra Singh (@DrJitendraSingh) April 5, 2016
Boys @NITSrinagar your security govt responsibility.Dont panick.If asked to stay indoors for time being it is inYour interest @malviyamit

— Dr Jitendra Singh (@DrJitendraSingh) April 5, 2016
TWO companies of CRPF in a campus is not normal by any stretch of imagination. Requires tact not use of force. https://t.co/zuY1UKW0QC

— Omar Abdullah (@abdullah_omar) April 5, 2016