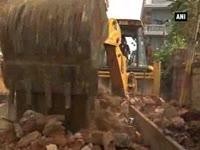 Twleve people lost their lives and two were gravely injured on Saturday night when an under construction building collapsed in Dulhipur locality of Mughalsarai district in Uttar Pradesh.
As per NDTV reports, the victims were asleep when the first floor of the building suddenly came crashing down. The superintendent of police of Chandauli Muniraj informed PTI reporters that the two injured were undergoing medical treatment in a nearby hospital. Muniraj also added that three individuals escaped unhurt.
The deceased includes five men, five women and two children who were residing in the building. Out of the 12, four were labourers who worked at the construction site.
The owner of the house has been identified as Mohammad Kamaruddin who also lost his life in the mishap. The two children who died in the building collapse were both aged eight.
The police and National Disaster Response Force rushed to the spot immediately after receiving the information about the collapse. While the NDRF personnel carried out the rescue operations, the district magistrate has promised a sum of Rs. 30,000 to the families of the deseased.
The police are probing into the matter to find out the cause of the collapse.