Around 30,000 beauty pageant contestants walked on a dusty ramp in Saudi Arabia, but unfortunately, 12 were kicked out of the annual competition and the reason is Botox. They were disqualified from the beauty pageant because their owners used Botox to make them look more handsome.
Every year, Saudi Arabia organises King Abdulaziz Camel Festival, a beauty pageant for camels in the kingdom. This year, the month-long beauty contest, which started on January 1, is taking place on the outskirts of the capital Riyadh. The month-long event also features an auction of the camels and camel racing.
"The camel is a symbol of Saudi Arabia. We used to preserve it out of necessity, now we preserve it as a pastime," the chief judge of the show, Fawzan al-Madi, explained it to Reuters.
A panel of judges rates tens of thousands of camels based on the size of their lips, cheeks, heads and knees. The prize money of the competition is around $57 million (213 million riyals), so it comes as a no surprise that thousands of camels participate in the beauty pageant.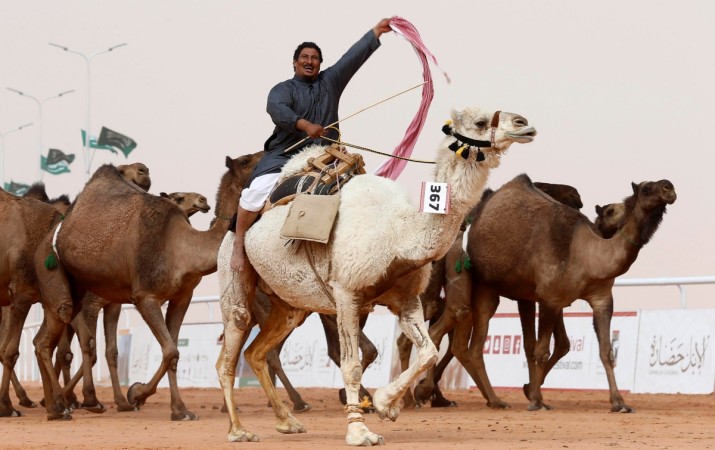 But this year, a Botox scandal has hit the competition due to which 12 camels were disqualified from the pageant for violating the rules.
"They use Botox for the lips, the nose, the upper lips, the lower lips and even the jaw," Ali Al Mazrouei, 31, a regular attendee and son of a top Emirati breeder told The National. "It makes the head more inflated so when the camel comes it's like, 'Oh look at how big is that head is. It has big lips, a big nose'."
Due to the massive prize money, several camel owners fear that Botox-injected camel could take home the amount. In fact, before the start of the competition report surfaced online that a veterinarian was caught performing plastic surgery on camels. Several owners want to see stronger punishment enforced on the culprit.
"The people who are just in the camel competition to make it more valuable, they are cheating everyone," Al Mazourei said. "A fine should be applied. In camel racing, whoever is using drugs is fined about 50,000 Dirhams in Abu Dhabi. The fine is not yet applied for beauty camels."