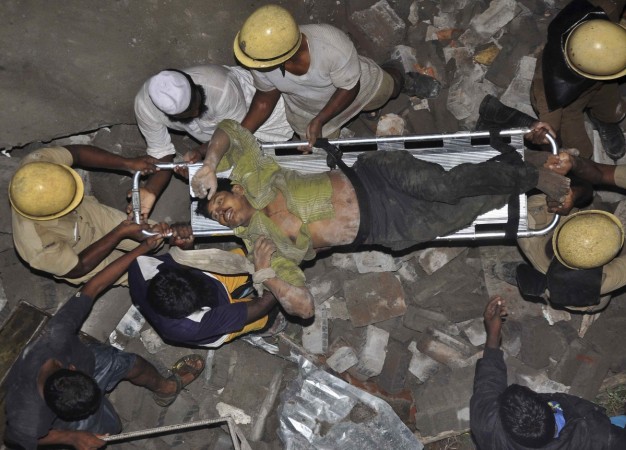 At least 11 construction workers from Andhra Pradesh were killed in Uttarapalayam of Thiruvallur district in Tamil Nadu on Sunday, when a newly built compound wall collapsed on their huts, adjacent to the wall.
Fire tenders were pressed into rescue work. Nagaraj, a 19-year-old youth, was rescued from the debris, PTI reported, quoting police sources. Heavy rains are understood to have caused the collapse.
The deceased include a child and four women. All labourers were working in a private godown. Thiruvallur District Collector K Veera Raghava Rao, who visited the calamity site, said those responsible for the collapse will be punished.
Rao stated that 11 persons were killed on the spot and rescue operations are underway.
Construction workers in India, most of them unorganised, generally stay at the worksite/under-construction buildings, which pose a threat to their lives. Sunday's tragedy is one such mishap.
On 28 June, 61 construction workers were killed in Chennai's Porur, when an under-construction building of 11 stories collapsed.
Just hours prior to the Chennai building collapse, 10 persons including five children were killed in New Delhi, when an apartment building collapsed.
Mumbai, too, is infamous for building collapses, especially during the monsoon season.
According to a survey of the Brihanmumbai Municipal Corporation (BMC) there are about 959 dilapidated buildings in Mumbai. These dilapidated buildings pose danger to the lives of around 1,00,000 inhabitants.
Maharashtra Housing and Area Development Authority says that there are more than 16,000 buildings, which were built before 1940. As per the Section 354 of Mumbai Municipal Act, BMC has the authority to compulsorily evict the inmates of such dilapidated old structures to avoid any catastrophe.