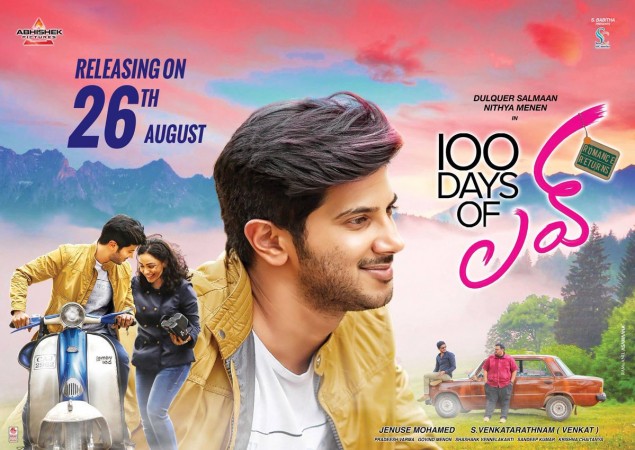 Director Jenuse Mohamed's movie "100 Days of Love," featuring Dulquer Salman and Nithya Menen in the lead roles, has received mixed reviews from the Telugu film critics and audience.
The Malayalam romantic comedy film, one of the biggest hits of 2015, has been dubbed in Telugu and released to cash in on the popularity of Dulquer and Nithya in Andhra Pradesh and Telangana.
The story of "100 Days of Love" is about Rao Gopal Rao (Dulquer), who is a columnist. Gopal falls head over heels for Savitri (Nithya) after seeing her for the first time in a taxi. When he is about to propose to her, he comes to know that she is a schoolmate whom he used to hate. What happens next forms the crux of the story.
The audience and critics say that "100 Days of Love" deals with a routine love story. The first half the film has been criticised for a slow paced narration, while the second half is predictable.
Dulquer Salmaan and Nithya Menen have done justice to their roles and delivered good performances. The sparkling chemistry between the two is the highlight of "100 Days of Love." Supporting cast of Sekhar Menon, Aju Varghese, Vineeth, Praveena, Rahul Madhav, VK Prakash, Abhirami Suresh and Jacob Gregory is also an asset of the movie, the critics and viewers said.
They claim that "100 Days of Love" has decent production values, but the dubbing of the Telugu version is not up to the mark. We bring you some audiences' reviews shared on Twitter and critics' verdict published on websites. Continue to see them in the "100 Days of Love" movie review roundup:
A rom-com made to appear feel-good even at the cost of being repetitious, it may come across as a dumbed down version of films of the same category. Can urbane characters/dialogues, an affected exterior and the like save a film? The answer is a resounding no. Watch out for Dulquer and Nithya.
The dubbed version of '100 Days of Love' may not create the same magic as Malayalam version did. However things gone for a toss in first half and it pulls down the movie. The lead performances are the only positives. Pre-climax portions are good. Music is too bad. Telugu dialogues are solid. However lyrics and songs are so bad.
100 Days of Love is a film which is dubbed into Telugu to just cash in on the huge craze of Nithya Menen and Dulquer. The lead pair's chemistry and last half an hour are basic highlights. But the lethargic first half and predictable nature of the script makes this movie a below average fare and can only be watched if you have a liking for love stories.
Hemanth Kumar C R ‏@crhemanth
#100DaysOfLove is like sipping wine. You let the taste linger and fall in love slowly, slowly. And @MenenNithya @dulQuer are so goooooood!
Survi ‏@PavanSurvi
#100DaysOfLove tries very hard to pull off a clichéd flimsy screenplay that had been told umpteen times.
Vrinda ツ☆ ‏@vrindaprasad
#100DaysofLove hits you like a blast of pure romantic oxygen. @dulQuer @MenenNithya's chemistry will touch u like a cool breeze of love.Fab!
Nithin Bolneni ‏@nithinbolneni
#100DaysOfLove is a love story with a soul in it, you lived in the character @dulQuer , loved it bro
Praveen bp ‏@Praveenbp10
#100DaysOfLove One of the cutest love story Nithyamenen Dulkar combination is awesome as always Songs are too good with nithyas sweet voice
V. Mallikarjun ‏@InsideMalli
#100DaysOfLove has its romance right. But it takes too much time to start. Slow Romance.
Vijayanand ‏@anandapmedia
@dulQuer @nithya_mn #100DaysOfLove first half over... horrible... worst dubbing
Hari Kiran P ‏@Iharik
Not much interesting stuff in #100DaysOfLove movie Routine movie to watch.
Jobless Jack/ Anvesh ‏@beinganvesh
Not a Malyali, but watched #BangaloreDays #Charlie & #Kaali only bcoz of this man @dulQuer & he is simply sublime! Next up #100DaysOfLove