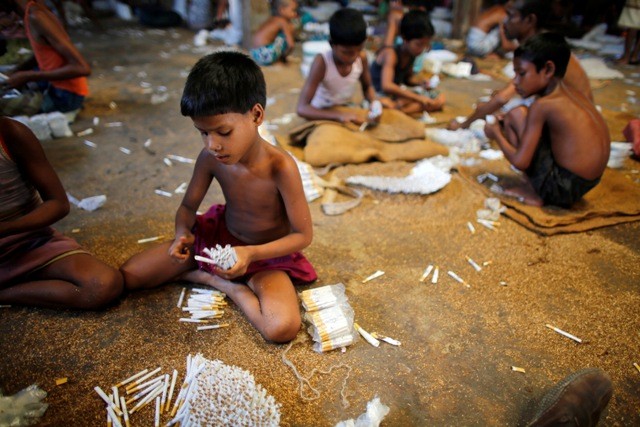 A 10-year-old Bangladeshi child labourer working at a textile mill died after his co-workers pumped air into his body by inserting a compressor hose into his rectum.
Sagar Barman was brought to the Dhaka Medical College Hospital with an abnormally bloated stomach on the afternoon of 24 July, but was declared dead at 3.30 pm local time (10.30 am BST).
"We will be able to give you details after the autopsy. The body has been sent to the morgue," Dr Firoz Ahmed told International Business Times.
Police officials said it was unclear why the boy was attacked and killed by his co-workers. An official working at Zobaida Textiles has been arrested. The company's staff also refused to let local journalists in to the factory.
"We spoke to the workers but could not get any names. The family is at the Dhaka Medical College and we are in touch with them. Details will be learned after a case is filed," Sub Inspector Tanvir Hossain said.
Child labourers, who work in despicable conditions, are fairly prevalent in Bangladesh, where the minimum legal age for employment is 14, according to the Labour law of Bangladesh 2006.
On 3rd August last year, a 12-year-old boy, Mohammed Rakibul Islam, was also killed in a similar way by three garage owners because he had quit his job at their vehicle shop. Two of the assailants were sentenced to death in November.
Eight months ago, a 28 year old man, identified as Manish, was also killed in a similar way in Kota, Rajasthan by an employee named Murari Lal at a puncture shop.
The incident occurred after the after the two had a minor scuffle. Manish who was allegedly inebriated at the time was regularly harassing Murari Lal.
The accused Murari Lal was later arrested for alleged culpable homicide not amounting to murder under section 304 of Indian Penal code (IPC).
According to the hospital sources, the excessive air pressure inside the body led to respiratory problems with internal haemorrhage, eventually causing death.