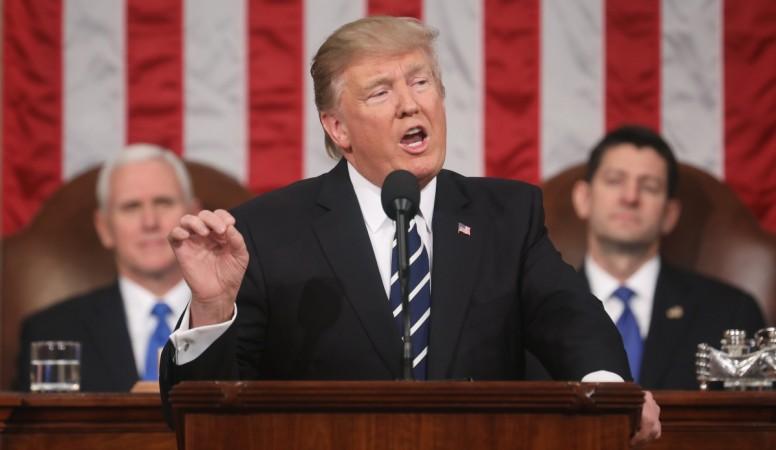 US President Donald Trump on Tuesday addressed his first Joint Session of the Congress. He condemned the shooting incident that took place in Kansas City claiming the life of an Indian engineer and injuring two others. However, he also said that the enforcement of immigration laws was the only way to keep the country safe.
Here are 10 things President Trump said in his first Joint Address in the Congress:
Trump urged the Congress "to repeal and replace Obamacare with reforms that expand choice, increase access, lower costs and, at the same time, provide better health care. Mandating every American to pay government-approved health insurance was never the right solution for America. The way to make health insurance available to everyone is to lower the cost of health insurance, and that's what we'll do."
He also said: "Obamacare premiums nationwide have increased by double and triple digits... Obamacare is collapsing – and we must act decisively to protect all Americans. Action is not a choice, it is a necessity. We must ensure that Americans with pre-existing conditions have access to coverage."
Buy American and Hire American
Trump said that the US "has spent approximately six trillion dollars in the Middle East, all this while our infrastructure at home is crumbling. With this six trillion dollars, we could have rebuilt our country --- twice. And maybe even three times if we had people who had the ability to negotiate."
He also urged the Congress to "approve legislation that produces a $1 trillion investment in the infrastructure of the United States -- financed through both public and private capital --- creating millions of new jobs." He added that the "effort will be guided by two core principles: Buy American, and Hire American."
Trump further added that the administration had created "tens of thousands of jobs" by clearing "the way for the construction of the Keystone and Dakota Access Pipelines." He has also "issued a new directive that new American pipelines be made with American steel."
Expanding the Military Budget
Trump said that his administration would increase expenditure on the military, including a hike in funding to veterans. "To keep America Safe we must provide the men and women of the United States military with the tools they need to prevent war and — if they must — to fight and to win. I am sending the Congress a budget that rebuilds the military, eliminates the defense sequester, and calls for one of the largest increases in national defense spending in American history," the president said.
"Education is the civil rights issue of our time. I am calling upon Members of both parties to pass an education bill that funds school choice for disadvantaged youth, including millions of African-American and Latino children. These families should be free to choose the public, private, charter, magnet, religious or home school that is right for them," Trump said.
Speaking about the crime rate in the US, Trump said: "Every American child should be able to grow up in a safe community, to attend a great school, and to have access to a high-paying job. But to create this future, we must work with — not against — the men and women of law enforcement. We must build bridges of cooperation and trust — not drive the wedge of disunity and division."
He added: "To protect our citizens, I have directed the department of justice to form a task force on reducing violent crime. I have further ordered the departments of homeland security and justice, along with the department of state and the director of national intelligence, to coordinate an aggressive strategy to dismantle the criminal cartels that have spread across our nation."
Trump claimed that he has statistics that prove that most of the attacks in the US post 9/11 were carried out by people who came to the country as immigrants.
"It is not compassionate, but reckless, to allow uncontrolled entry from places where proper vetting cannot occur...We cannot allow a beachhead of terrorism to form inside America -- we cannot allow our nation to become a sanctuary for extremists," the president said.
Trump added that he had "imposed new sanctions on entities and individuals who support Iran's ballistic missile program, and reaffirmed our unbreakable alliance with the state of Israel." He further added: "I directed the department of defense to develop a plan to demolish and destroy ISIS -- a network of lawless savages that have slaughtered Muslims and Christians, and men, women, and children of all faiths and beliefs."
Trump said that the country could be kept safe from "gang members, drug dealers and criminals that threaten our communities and prey on our citizens" only by enforcing the immigration rules and tightening border security.
"By finally enforcing our immigration laws, we will raise wages, help the unemployed, save billions of dollars, and make our communities safer for everyone. We want all Americans to succeed --- but that can't happen in an environment of lawless chaos. We must restore integrity and the rule of law to our borders."
He also spoke about the "great wall" that he wants to build "along our southern border. "It will be started ahead of schedule and, when finished, it will be a very effective weapon against drugs and crime...Bad ones are going out as I speak tonight and as I have promised. We will stop the drugs from pouring into our country and poisoning our youth -- and we will expand treatment for those who have become so badly addicted."
Trump has also formed an agency called 'VOICE' for victims of crime committed by immigrants. "I have ordered the department of homeland security to create an office to serve American victims. The office is called VOICE — victims of immigration crime engagement. We are providing a voice to those who have been ignored by our media, and silenced by special interests," he said.
Adding that US companies pay the highest amount of taxes across the world, Trump said that his administration "is developing historic tax reform that will reduce the tax rate on our companies so they can compete and thrive anywhere and with anyone. At the same time, we will provide massive tax relief for the middle class. We must create a level playing field for American companies and workers."
Trump said that the US strongly supports NATO, but its partners must "pay their fair share of the cost."
The president said: "We strongly support NATO, an alliance forged through the bonds of two World Wars that dethroned fascism, and a Cold War that defeated communism. But our partners must meet their financial obligations...We expect our partners, whether in NATO, in the Middle East, or the Pacific --- to take a direct and meaningful role in both strategic and military operations, and pay their fair share of the cost. We will respect historic institutions, but we will also respect the sovereign rights of nations."
'My job is to represent the USA, not the world'
Addressing the first Joint Session of the Congress, Trump said that his job was to represent the US and not the world.
"Free nations are the best vehicle for expressing the will of the people — and America respects the right of all nations to chart their own path. My job is not to represent the world. My job is to represent the United States of America. But we know that America is better off, when there is less conflict — not more."