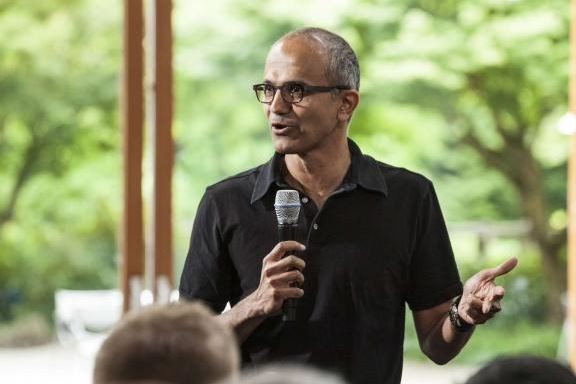 After five months of intense scrutiny, board members of American technology giant Microsoft are all but certain to anoint the Hyderabad-born Satya Nadella as the new CEO, replacing the current chief Steve Ballmer.
Here are some must-know trivia about the future Microsoft CEO Satya.
Satya (aka Satyanarayana) Nadella, born in 1967, did his early education at Hyderabad Public School (Begumpet), Andhra Pradesh.
He went on to complete his bachelor's degree in electrical engineering at Manipal Univerisity (1988 batch), Karnataka.
Satya then moved to USA for higher education, there he got MS (Master of Science) degree in Computer Science from the University of Wisconsin (Milwaukee) and also went to get MBA (Master of Business Administration) from the University of Chicago Booth School Of Business.
Before his tryst with Microsoft, he worked at top ICT (Information and Communication Technology) company Sun Microsystems (now owned by Oracle).
In 1992, he joined Microsoft as Program Manager in Windows Developer Relation Group.
From there on, Satya went on to head Microsoft's Online Service Division (R&D) and later as vice-president of Server and Tools Business.
Satya has been credited for spearheading Microsoft's Database, Windows Server and developer tools in cloud computing platform Azure.
Ever since he took over the helm at Microsoft's 'Cloud and Enterprise' in 2011, the division has grown from $16.6 billion to $20.3 billion (as of June 2013).
Satya is yet to be officially appointed as the Microsoft CEO; Internally, he was competing with former Nokia Chief Stephen Elop, Tony Bates (Executive Vice President for Business Development & Evangelism at Microsoft) and Kevin Turner (Chief Operating Officer). Others include - Alan Mulally (Ford Motor Co, CEO), Steve Mollenkopf (already out of race, he is now the CEO of Qualcomm Inc.) and Hans Vestberg (Ericsson AB CEO )
If anointed, Satya will be become Microsoft's third CEO in the four decade-long history of the company.