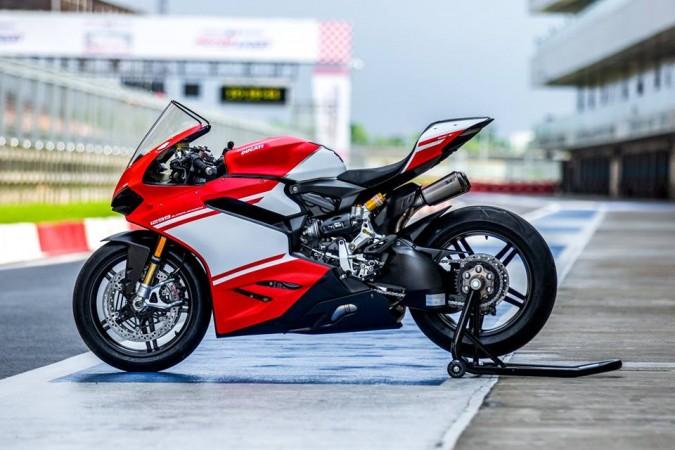 When Italian superbike manufacturer Ducati rode into India with 1299 Superleggera, many doubted if it would find any takers. Ever since its launch, the lingering question was: Who in his right senses would spend so much on 'just' a bike? After months of wait, we have an answer.
1299 Superleggera has now been delivered to Vikram Oberoi, the first and only buyer so far in India. The Joint Managing Director at Oberoi Group of Hotels and bike buff became the proud owner of this super cool contraption-- a paragon of engineering, technology and performance. The production of this mean machine was limited to only 500 units in the world and all of them have been sold.
The 1299 Superleggera is the first-ever factory made bike equipped with a carbon fibre frame, swingarm, subframe and wheels. 1299 Superleggera's fairing is made of carbon fibre.
The motorcycle is powered by 1285cc Superquadro L-twin engine with 215hp at 11,000 rpm and 146Nm at 9,000 rpm making 1299 Superleggera the most powerful factory twin-cylinder ever. For those aiming to use the bike only on the track, the 1299 Superleggera comes with a track kit that includes an Akrapovic titanium exhaust. The kit can shed off bike's weight by 4 kgs and boost engine power by 5hp.
The 1299 Superleggera features electronics package which uses a 6-axis Inertial Measurement Unit (6D IMU) to manage an array of electronic controls. This system controls Ducati Slide Control (DSC), Engine Brake Control (EBC) and it is also the first-ever Ducati superbike to be equipped with the brand's Power Launch (DPL). The superbike also features Ducati Traction Control, Ducati Wheelie Control, Cornering ABS, Riding Modes and Power Modes.