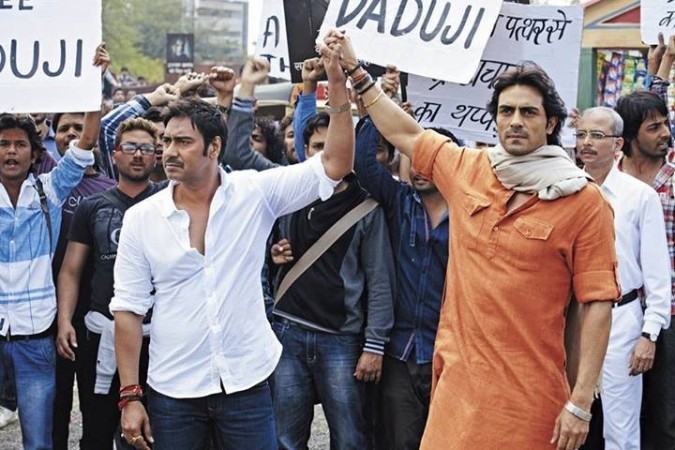 Political thriller "Satyagraha" is doing much better than Prakash Jha's "Raajneeti" in the international market. Despite the genre limitation, "Satyagraha" has raked in big numbers in its opening weekend at the overseas box office.
The Amitabh Bachchan-Ajay Devgn starrer has minted approximately ₹9.26 crore ($ 1.4 million) during the opening weekend in the international market.
"#Satyagraha has fared the best in U.A.E.-G.C.C. and U.S.A.-Canada. In fact, is better than #Raajneeti in U.A.E.-G.C.C," trade analyst Taran Adarsh tweeted on Monday.
The film raked in ₹1.18 crore (£ 1,14,212) from 46 screens from the UK, ₹2.69 crore ($ 4,07,294 ) from 84 screens from the US, ₹2.77 crore (AED 15,40,000) from UAE-GCC, ₹62.69 lakh (A$ 1,05,269) from 16 screens from Australia, ₹12.23 lakh (NZ$ 23,625) from 8 screens from New Zealand and ₹66.18 lakh ($ 1,00,000) from Pakistan.
The film is doing much better than previous release "Madras Cafe" which features John Abraham and Nargis Fakri in lead roles. "Madras Cafe" managed to fetch ₹4.09 in its opening weekend from the overseas market.
Meanwhile, "Satyagraha" passed the first weekday test with flying colours. The film is holding well during the weekdays in certain circuits.
It raked in ₹5.07 crore on first Monday, taking the overall toll to ₹44.19 crore nett. The four-day breakup of the film, according to Taran Adarsh is: Friday ₹11.21 crore, Saturday ₹13.08 crore, Sunday ₹14.83 crore and Monday ₹5.07 crore. The film should take the first week total to over ₹55 crore.
During the second week, "Satyagraha" will face competition from two upcoming films - "Suddh Desi Romance" and "Zanjeer", which will affect its theatrical run.