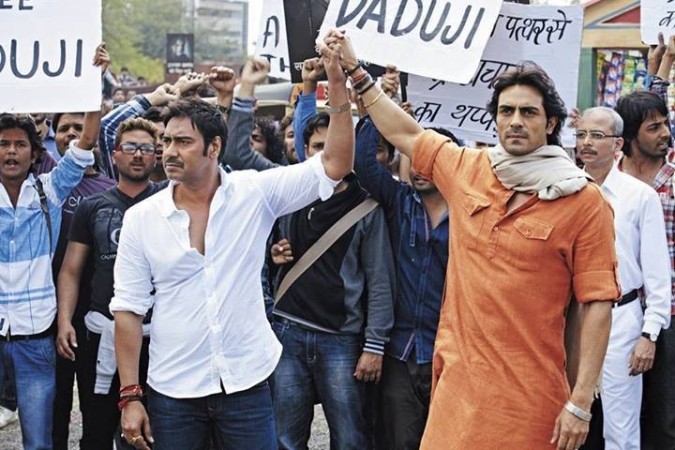 Political thriller "Satyagraha" has hit the half-century mark at the domestic box office. Prakash Jha's directorial film has raked in over ₹51 crore within six days since its release, trade analyst Taran Adarsh said.
The six-day breakup of the film is: Friday ₹11.21, Saturday ₹13.08 crore, Sunday ₹14.83 crore, Monday ₹5.07 crore, Tuesday ₹4.11 crore and Wednesday ₹3.62 crore.
The film, which caters to a select audience, is doing much better than last two releases - "Madras Cafe" and "Once Upon A Time In Mumbaai Dobaara", in Indian theaters.
The political drama features Amitabh Bachchan, Ajay Devgn, Kareena Kapoor Khan, Arjun Rampal, Manoj Bajpai and Amrita Rao in lead roles.
As expected, the film is garnering attention and Prakash Jha is happy with the positive response. Although, the collections are declining on weekdays, it is still holding a good position considering its genre.
"I am happy with the response that we are getting for a film like Satyagraha... it shows people are ready to accept all kind of films provided they are good. With the kind of numbers (box office collection) we have made, it proves the audience has liked the film," Jha told Press Trust of India.
"I have never claimed that I am trying to make great cinema. I have always taken cinema as a medium to express my opinions and take it to the audience," he said.
Ajay Devgn is also happy with the reaction the film has received.
"It's a good feeling the audience is ready to watch good cinema. As an actor it's like a confident booster for me that people accept me in commercial as well non-commercial roles. Most of the reaction that I have got has been positive. If you look at the collections it shows people have loved the film," the actor said, according to PTI.