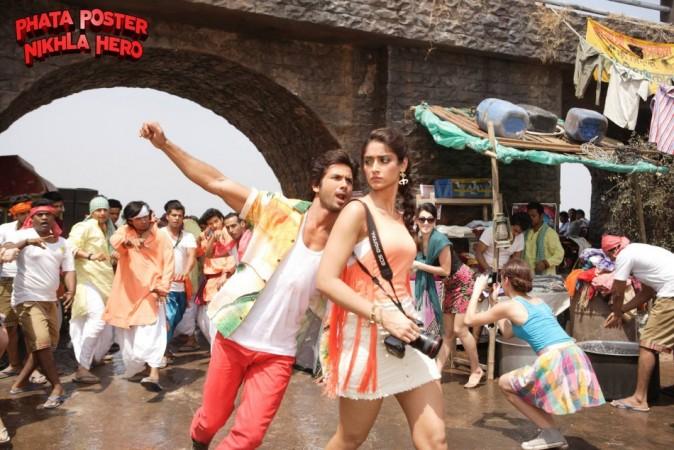 Actor Shaid Kapoor's new film "Phata Poster Nikla Hero" has performed lower than his last two releases "Mausam" and "Teri Meri Kahaani" in international markets.
The action comedy, directed by Rajkumar Santoshi, fell below expectations at the overseas box office with just ₹7.51 crore in its opening weekend.
"#PPNH has underperformed in key international markets, except U.A.E.-G.C.C. The *opening weekend* total is $ 1.2 million [₹ 7.51 cr]," trade analyst Taran Adarsh tweeted.
The film, which also features Ileana D'cruz, only did well in the UAE-GCC circuits, fetching ₹3.05 crore (AED 17,90,000) in its opening weekend. In other circuits, "Phata Poster Nikla Hero" remained dull in its first three days of theatrical run.
"Phata Poster Nikla Hero" raked in ₹79.36 lakh (£ 79,012) from 21 screens in the UK, ₹1.63 crore ($ 2,60,188) from 94 screens in the US, ₹15.64 lakh (A$ 26,578 ) from 11 screens in Australia, ₹11.21 lakh (NZ$ 21,450 ) from seven screens in New Zealand and ₹4.30 lakh (FJD 12,790) from two screens in Fiji.
In India, the action comedy registered average collections in its opening weekend, raking in ₹21.25 crore. The worldwide first weekend total of the film stands at ₹28.76 crore.
Below is the country-wise comparison of Shahid's three films provided by Taran Adarsh:
| | | | | | |
| --- | --- | --- | --- | --- | --- |
| Films/Countries | UK-Ireland | US-Canada | Australia | New Zealand | Fiji |
| Phata Poster Nikla Hero (2013) | £79,012 | $2,60,188 | A$ 26,578 | NZ$ 21,450 | FJD 12,790 |
| Mausam (2011) | £1,88,488 | $4,59,024 | A$ 84,113 | NZ$ 25,570 | FJD 15,077 |
| Teri Meri Kahaani (2012) | £1,90,130 | $4,05,926. | A$ 84,491 | NZ$ 22,949 | FJD 18,866 |