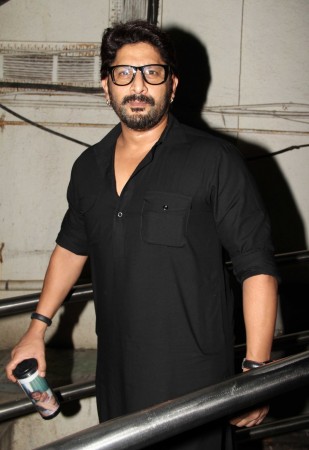 Produced by Bhola Ram Malviya and Shital Malviya and directed by Samir Tewari, the film features Soha Ali Khan, Arshad Warsi and Jaaved Jaffrey.
Check out the critics' review here:
Taran Adarsh of Bollywood Hungama said: "First things first! One may assume that MR JOE B. CARVALHO might be overloaded with double entendres, courtesy its title, but that's not true. Thankfully, this one's devoid of any vulgarity whatsoever. Now let's analyse the film... MR JOE B. CARVALHO attempts to spoof just about everything available on platter, but the sad part is that the screenplay is not as creative as its title. The film depends largely on the [super] comic timing of Arshad Warsi and Jaaved Jaaferi, while a few one-liners and sequences are genuinely funny as well, but these are mere exceptions.
"Needless to say, the film belongs to Arshad Warsi and rests heavily on his shoulders. His comic timing is flawless and he gets the act spot on. Jaaved Jaaferi too is known for his comic side, but his potential isn't tapped to the fullest. Considering that he has already done the drag act before, there's nothing innovative or new that he brings to the table in varied avatars. Soha Ali Khan portrays the dabangg cop with sincerity. She also carries off the glam avatar very well.
"On the whole, MR JOE B. CARVALHO has few moments that stay with you, but a weak second half plays the spoilsport."
Sweta Kaushal of Hindustan Times said: "Going by the trailer, you would know the film is a comedy of errors, with sense taking a backseat and confusion reigning supreme. With performers like Vijay Raaz and Arshad Warsi in the cast, the expectations from this comic thriller are high. Does the film live up to these expectations?
"Mr Joe B Carvalho opens with a lame fight sequence where Soha Ali Khan makes a Dabangg-style entry. She gets down from a police jeep and beats up 20 muscular men. Soha's dialogue delivery in the film is forced.
"Jaaved Jaffrey has a few good moments but otherwise his scenes drag (pun intended). The only moments where the audience may pay attention are where he is talking to his imaginary parents and voicing all three.
"The movie is completely predictable and the script is conspicuous by its absence. Soha's acting is too forced even for the caricature of a character she is supposed to be playing. Whether she is playing a 'Dabangg' police officer or posing as a cabaret dancer, the actress fails to make her acts believable."
Saurabh Dwivedi of India Today said: "A comedy film comprises a funny script and good dialogues. 'Mr Joe B Carvalho' sadly lacks both. Resultantly, the two hours spent watching the movie turn out to be pure torture. What you can laugh at is the poor performance on the part of the director, producer and story writer.
"Here's a sample of the kind of dialogues the movie has: "Maut, p*tty, aur Carlos kabhi bhi kahi bhi aa sakte hain". 'Maut' is something that doesn't follow the sad dialogues of this movie.
"Watch this movie only if for you anything passes in the name of 'comedy'. The film deserves the one star it got for the bravery the makers of this film showed while making it."
Saibal Chatterjee of NDTV said: "Mr Joe B Carvalho, directed by first-timer Samir Tewari, is a comedy of terrors in which anything goes. It is utterly unfunny and riddled with mindless gags that drag beyond acceptable limits. Warsi, who on his part plunges headlong into the poorly written pivotal role, stands tall among the ruins. While everyone else in the cast unabashedly hams it up in an attempt to be cartoonish, he stays within the parameters of conventional screen acting.
"If one has the stomach for a film as insuffereable as this, you might also spot a fireworks trader Virani (Ranjeet) and a hired shooter Malik (singer Babul Supriyo). Mercifully, they are both bumped off before they begin to get on the nerves.
"Be warned. Jo bhi karlo but stay well clear of Mr Joe B Carvalho if you value your money - and sanity."