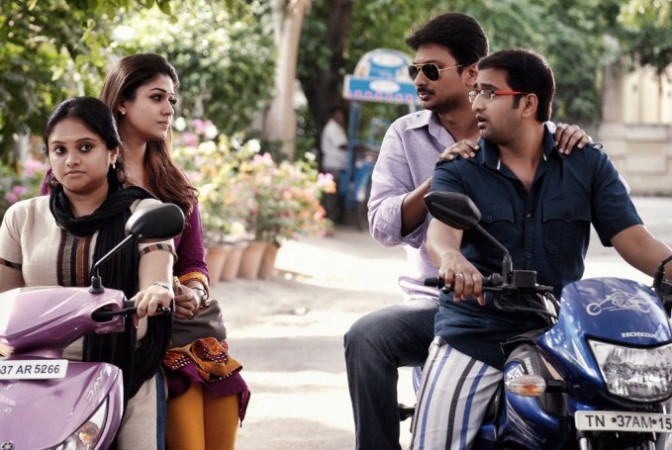 Udhayanidhi Stalin's "" has received mostly positive reviews from critics.
"Idhu Kathirvelan Kadhal" (IKK) is Udhay's second outing as a hero after the super hit film "Oru Kal Oru Kannadi", which released in 2012. Incidentally, "IKK" is director S.R. Prabhakaran's second film after the successful "Sundarapandian", starring Sasikumar.
Udhay has teamed up with comedian Santhanam once again to provide some rib tickling jokes. Nayanthara plays the female lead, while the supporting cast includes Chaya Singh, "Aadukalam" Naren, Saranya Ponvannan, Jayaprakash, Vanitha and Sunder Ramu.
Although "IKK" is about Udhay's love with Nayanthara, the story has a lot of sub plots that provides scope for the supporting cast to prove their mettle.
Kathirvel (Udhay) is a staunch Hanuman devotee who doesn't fall for women. He arrives from Madurai to Coimbatore to solve a family dispute and falls for the attractive Pavithra (Nayanthara) at the first sight.
Udhay forgoes his bachelor days and pursues Pavithara, but she reveals that she has feelings for Gowtham (Sunder Ramu), who is a long time friend of hers. However, Gowtham does not love Pavithara and just prefers to have a good time with her and move on. Kathir comes to know about Gowtham's intentions and he warns Pavithara about him. But she does not heed to Kathir's words and asks him to stay out of her life.
As the film progresses, we realise it is not just a romantic entertainer but more of a family drama. The director has included several sub plots in the film which involves Kathir's sister played by Chaya Singh, "Aadukalam" Naren (an angry father), Saranya (as Kathir's mother), Jayaprakash and Vanitha (as Pavithra's parents).
Here is the review roundup of "IKK"
S Saraswathi of rediff says, "Ithu Kathirvelan Kadhal is your everyday love story, made special by its simplicity, the well-chosen characters, some good dialogues, commendable performances and excellent music."
"The director also manages to put across an important message for both lovers and parents in an extremely palatable manner."
Behindwoods Review Board says, "When the film assumes the personality of a family drama, the scenes are seemingly more well written and backed by professional performances from the likes of seasoned actors such as Aadukalam Naren, Jayaprakash, Saranya Ponvannan and Vanitha Krishnachandran. Chaya Singh also makes a neat comeback after a long time."
"But when the film wants to be a rom-com, the feature seems to rest solely on the comedy of Santhanam, who with his 'smart' pants, delivers his usual love punches and manages to keep the proceedings moving. His climax portion is also a nice surprise."
According to Indiaglitz, "Udhay has improvised a lot no doubt, and kudos to the costume designer for belting out some colorful costumes that really go well on him. His dancing skills are finetuned, but there is a lot of room to improve and he should really work on dialogue delivery, all said his acting skills as a boy next door is commendable. Nayanthara looks gorgeous as Pavithra a straight forward gal and it's indeed a hatrick for her."
"Santhanam pelts a volley of witty punch dialogues on love and that looks just spot on coinciding with Valentine's day. He indeed is the comedian of this time without a doubt and the scene in the TV showroom brings the floor down."
According to Sify, "This film doesn't work because it's hard to empathize with any of the characters and the actors fail to rise above the flawed script. Udhayanidhi has improved leaps and bounds in all departments of acting; Nayan looks good and does what is expected from her. Santhanam repeats his friend act for the umpteent time and his one-liners falls flat. Songs by Harris are ok but placements are wrong and at times in your face."
Verdict: Clean family entertainer, though the film offers nothing new.