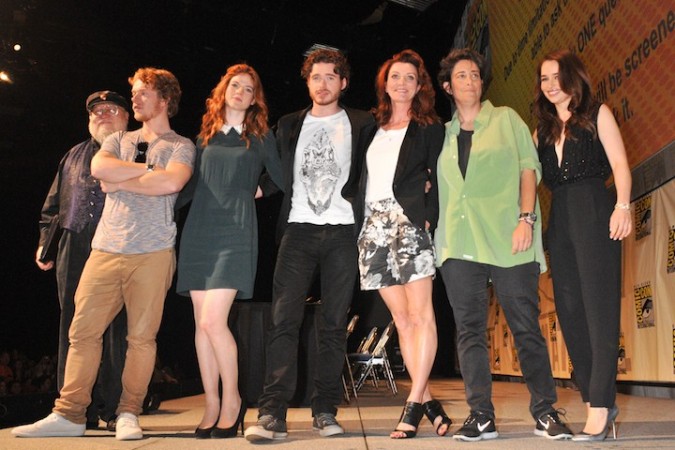 The season 4 of drama series "Game of Thrones" has emerged as most watched series on television, boasting HBO's TV ratings.
The episode 4 of season 4 is titled "Oathkeeper" and it will air on Sunday night on HBO at 9 pm in the US. For those who won't be able to watch the show on their household, HBO has provided the live stream link at HBO Go, to watch the show online.
In the UK, the show will be aired on Sky Atlantic on Monday 28 April at 1:30 am, according to the official website. Click here to check for more information.
In Australia, the show will be aired on Monday 3.30 pm AEST on Foxtel. Click here for more updates. In Canada, "Game of Thrones" will be aired on HBO Canada on Sunday night.
Ep 4 is 1 sleep away. Have rabbit stew with friends in the realm w/ @HBO to watch it with them on TV tomorrow at 9 https://t.co/OnuTb5YAaF

— Game Of Thrones (@GameOfThrones) April 27, 2014
From purple wedding to King Joffrey's murder, the season 4 has started on a phenomenal response. The series has been breaking record of most downloaded online series on BitTorrent.
The popularity of the show and channel is growing with each episode of "Game of Thrones," but with that the piracy has also increased.
The second episode, which featured the purple wedding and death of King Joffery, was the most watched and most downloaded episodes of "Game of Thrones."
While, the channel is happy with increased number of subscription and popularity, they are also worried about the pirated copies.
"There are numerous anti-theft tools we utilize and we have significantly shrunk the international distribution window for original programming to practically correspond with the US premiere. Unfortunately, with popularity comes piracy. Good news is Game of Thrones continues to grow significantly and tens of millions are watching the series legally around the world," HBO said in a statement.
(Ed: AJ)