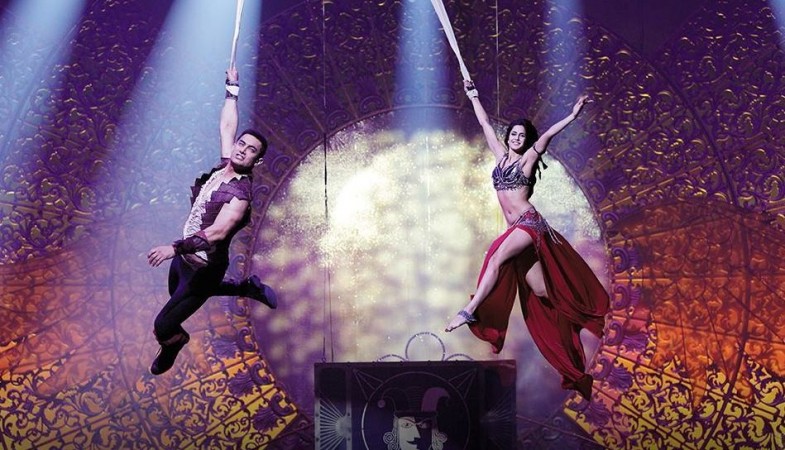 Aamir Khan's "Dhoom 3" is all set to overtake Hrithik Roshan's "Krrish 3" in terms of screen count in south India. [Also Read: After "Chennai Express" and "Krrish 3", "Dhoom 3" Promotions in Chennai]
"Krrish 3" released in around 750 screens in south India. Now, "Dhoom 3" is likely to cross the screen count of the superhero flick. According to Andhraboxoffice, "Dhoom 3" is expected to release in over 850 screens.
The website reports that "Dhoom 3" will be released in around 150 screens in Tamil Nadu and between 80-100 in Kerala. Sai Korrapati (Bellary Sai) of Vaaraahi Chalana Chitram, who has bought the distribution rights of the film for Andhra and Ceded areas, is looking forward to release the film in 250 screens in those regions.
YRF's Vandana films, distributor of Nizam area, is reportedly planning to book 200 screens in areas including Marathwada and Hyd KA regions. YRF's Pal Enterprises, who has acquired "Dhoom 3" distribution rights for Mysore, is likely to release the film in around 100 screens. Bombay KA area will reportedly allot 65-70 screens for "Dhoom 3". The total screen count for the action thriller flick is likely to be over 850 in south India (including Hindi, Tamil and Telugu versions), which is higher than "Krrish 3" screen count.
Directed by Vijay Krishna Acharya, "Dhoom 3" is the third installment in the popular "Dhoom" franchise. Aamir plays the antagonist and Katrina Kaif has been paired with him. Abhishek Bachchan and Uday Chopra reprise their cop roles in the film.
Advance bookings for "Dhoom 3" have alreayd started and the film is all set to hit the screens on 20 December. While it will have a solo big release in northern circuits, the Aamir starrer will face strong competition from regional films in Tamil Nadu, Andhra Pradesh, Karnataka, Kerala and overseas markets.
It remains to be seen if "Dhoom 3" will be able to earn more than regional releases. One also needs to wait a little longer to find out whether the film will be able to surpass "Chennai Express" and "Krrish 3" collections at the box office.