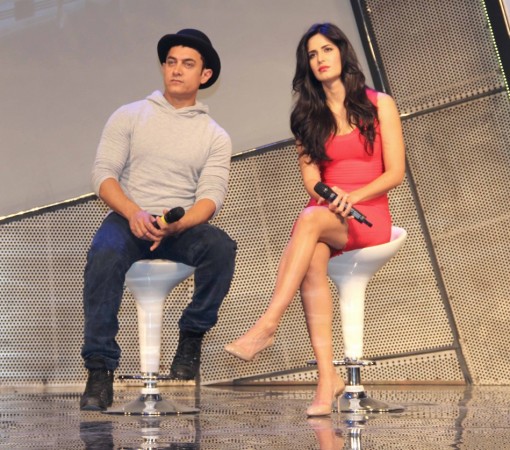 With just three days to go for "Dhoom 3" release, the film's team is busy promoting the action thriller.
Aamir Khan and the "Dhoom 3" unit are coming to Chennai to promote the film in the city on Tuesday evening (17 December).
According to a report in Sify, "Dhoom 3" team will be flying down to Chennai after completing the film's promotions in Hyderabad. They will be coming in a chartered jet at around 6 pm and meet the press at a place close to the airport.
Interestingly, Chennai has become one of the significant hubs for promoting Bollywood films, thanks to Shah Rukh Khan. The actor aggressively promoted "Chennai Express" across India ahead of the film's release in August and also came to Chennai and promoted the film at an event organised by a leading silk sari shop. The actor also surprised the audience doing lungi dance, using the sponsor's sari.
Shah Rukh's promotional tactics were a big hit among Tamil audience and the film went on to do extraordinary business at the Tamil Nadu box office, opening the market for Hindi films in south.
Following Shah Rukh Khan, "Krrish 3" actor Hrithik and his father Rakesh Roshan came to Chennai to promote the superhero flick, which also became a big hit in Tamil Nadu.
Now the focus has shifted to Aamir Khan's "Dhoom 3" which is one of the most-awaited films of 2013. The "Dhoom" franchise is very popular in south. "Dhoom 2", the second installment of the franchise, received good response from Tamil audience.
There is a lot of buzz surrounding "Dhoom 3" in Tamil Nadu. With the film's team coming down to Chennai to promote it, it remains to be seen whether their promotions will work in their favour.
"Dhoom 3" will not have a solo release in Tamil Nadu as there are two Tamil films releasing on the same day. However, the action entertainer is likely to take a fantastic opening on the first day of its release considering the popularity of Aamir Khan and the "Dhoom" franchise in the state.