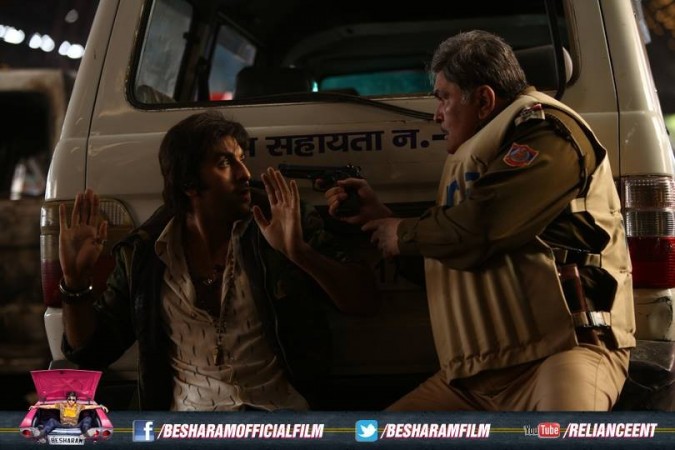 Abhinav Kashyap's directorial film "Besharam" has not performed its best in international market in its opening weekend.
Despite having a five-day long weekend, the collections of Ranbir Kapoor starrer was much lower in several overseas circuits than his last three releases - "Yeh Jawaani Hai Deewani", "Barfi" and "Rockstar".
The opening weekend business of "Yeh Jawaani Hai Deewani" was much better than latest release "Besharam".
"Yeh Jawaani Hai Deewani" raked in ₹19.25 crore from first three days, while "Besharam" minted ₹14.29 crore in five days.
"#Besharam *5-day opening weekend total [Wed to Sun]* is approx. $ 2.32 million [₹14.29 cr] from international markets," trade analyst Taran Adarsh said.
Listed below is the country-wise breakup of the film provided by Adarsh:
UK and Ireland: "Besharam" minted ₹2.46 crore (£2,48,499) from 95 screens.
US and Canada: It raked in ₹3.11 crore ($ 5,04,000) from 217 screens.
UAE: The film earned ₹4.22 crore (AED 25,16,000).
Australia: "Besharam" collected ₹53.82 lakh (A$ 92,587) from 19 screens.
New Zealand: The film raked in ₹17.32 lakh (NZ$ 33,819) from nine screens.
Fiji: The film minted ₹6.25 lakh (FJD 18,735) from two screens.
The business of the film was much better at the UAE and US box offices compared to other countries.
Here is a look at the collections of Ranbir's last three films in UK, US, New Zealand and Australia:
| | | | | |
| --- | --- | --- | --- | --- |
| Films/ Countries | Besharam Collection (5-Day Weekend) | YJHD Collection (Weekend) | Barfi Collection (Weekend) | Rockstar Collection (Weekend) |
| UK | £ 248,499 [₹2.46 crore] | £ 405,784 [₹4.04 crore] | £ 229,783 [₹1.98 crore] | £ 184,592 [₹1.59 crore] |
| US | $ 504,000 [₹3.11 crore] | $ 1,568,677 [₹9.68 crore] | $ 1,061,713 [₹6.55 crore] | $ 612,235 [₹3.79 crore] |
| New Zealand | NZ$ 33,819 [₹17.33 lakh] | NZ$ 80,648 [₹41.32 lakh] | NZ$ 22,815 [₹10.26 lakh] | NZ$ 21,547 [₹9.68 lakh] |
| Australia | A$ 92,587 [₹53.82 lakh] | A$ 267920 [₹1.56 crore] | A$ 138,257 [₹74.63 lakh] | A$ 99,676 [₹53.81 lakh] |