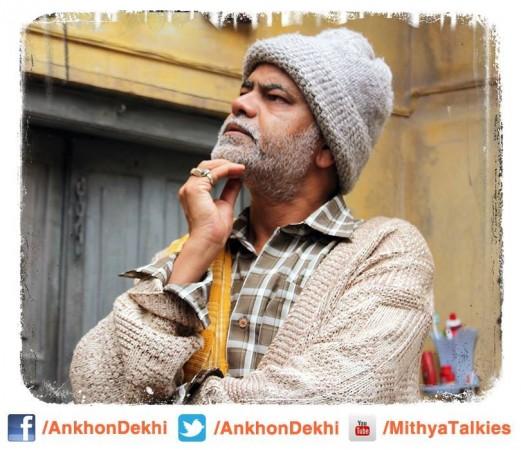 "Ankhon Dekhi," which is written and directed by Rajat Kapoor, has received very good reviews from critics. Critics have hailed it as a must watch film.
Sanjay Mishra and Rajat Kapoor are playing the lead roles in the film. Namit Das, Seema Pahwa, Manu Rishi Chadha and Brijendra Kala are in supporting roles.
Read the review here:
Mohar Basu of Koimoi.com said: "If Mithya was an irresistible dark comedy that held too many surprises for you, Ankhon Dekhi is just as predictable and yet so hard-to-let-go delicious. Magnificently conceptualized, it is eventually Rajat Kapoor's intriguing vision and his ability to keep it consistently engaging all through its screen time, is what makes this offering a decadent watch that must be savored.
"Ankhon Dekhi" has every element in it that makes it a flattering watch. Heart warming in parts and easy to get entrapped in, the film is mindbogglingly engaging. Its impossible to dismiss this film, because of its mounting moments that soar all through.
Rohit Khilnani of India Today said: "Rajat Kapoor's "Aankhon Dekhi" is a story set in old Delhi. It follows the life of Bauji (Sanjay Mishra) who lives a normal life until one incident changes the way he sees the world and its ways.
"The humour goes on till the very end with some hilarious dialogues giving it a complete Hrishikesh Mukherjee feel. The entertainment doesn't stop till the final scene and you never get bored, which is great considering there are no big stars, no item numbers and no foreign locations.
"Aankhon Dekhi" is a display of great team work. From Rajat Kapoor's writing and direction to Rafey Mehmood's cinematography beautifully capturing the narrow lanes of old Delhi. Even Sagar Desai's music fits perfectly here. Sanjay Mishra in the lead puts up a great show and Rajat Kapoor as his younger brother is fantastic.
Suprateek Chatterjee of Firstpost said: "Aankhon Dekhi" is an exception. Not only is it a film that has been criminally underpromoted, but it does something few of us would've expected. Sanjay Mishra, a comedic actor best known to many as the bumbling Apple Singh, breaks our hearts with his astounding performance as Raje Bauji, a man who dares to look at the world differently.
"The beauty of the concept and how it plays out is that Mishra's character is both Lear and fool. Too often, in these kinds of films, we're given protagonists who are either beyond reproach or flawed beyond recognition, and the stories around them usually exploit these qualities to create situations to push the filmmaker's agenda forward."
"Aankhon Dekhi" is not a film that will invite public love, the way Queen or Highway have managed to garner over the past month. It eschews typical Bollywood razzle-dazzle to paint a stark but vivid portrait of the search for meaning and truth in our lives, where the laughter and the tears both come from the truth laid bare on screen.
Prateek Sur of Bollywoodlife.com said: "Actor-director-writer Rajat Kapoor's latest offering "Ankhon Dekhi," all set in Purani Dilli, is one of those films which will make you go into introspective mode. The movie is based on a simple concept of 'seeing is believing' and Sanjay Mishra's character Bauji has brought it out in a fantastic way.
"Ankhon Dekhi" is a perfect mixture of and experimental art film and offbeat cinema, which gives you the feel of a Hrishikesh Mukherjee or a Woddy Allen film. The simplistic story and the even simple ideals of a common family have been portrayed to the best. The balance although shifts at times and makes you lose the entertainment quotient but maybe for a couple of minutes at the max. The story is meaningful and the presentation is entertaining. BollywoodLife suggests it to the cinemagoer who loves watching classy films and abhors watching masala Hindi films.