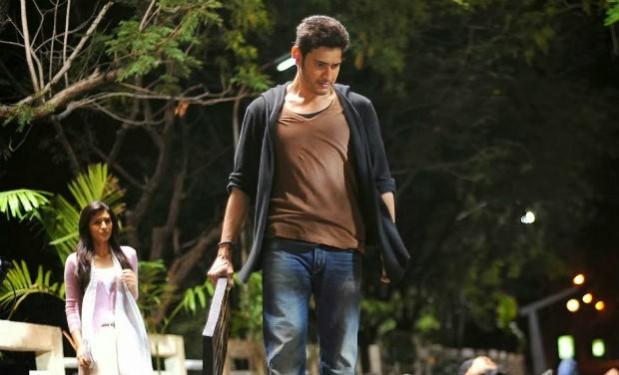 While critics praised Mahesh Babu performance, the Telugu film "1 Nenokkadine," has mostly recieved negative reviews.
"1 Nenokkadine" story revolves around rockstar Gautham (Mahesh Babu) who had a troubled childhood; he witnesses the gruesome murder of his parents when he was a child. Gautham suffers from psychological problem and experiences strange events, which make him believe that somebody is out there to kill him. However, people around him do not notice such strange events and they tell him that he is in his imaginary world.
Journalist Sameera (Kriti) enters Gautham's life and falls in love with him. With her help, Gautham sets out to seek answers for the strange events that haunt him. The rest of the story is how he overcomes his problems, finds out his parents' killers and takes revenge on them.
Critics have appreciated Mahesh's performance in this psychological thriller, that is devoid of comedy tracks and heroism. They say that Mahesh has given his best shot and comes out with an outstanding performance. Debutant Kriti Sanon has done a decent job and ups the glamour quotient in song sequences. The film's production values, technical brilliance and cinematography are its plus points.
On the flip side, the screenplay seems to be confusing in the first half which might be complex to understand for the audience. The film has an excessive runtime and it affects the pace. The running time should be cut down by at least 30 minutes, say the critics.
Here is the review roundup of "1 Nenokkadine"
Ananya Datta of Deccan Chronicle says, "'1 Nenokkadine' is director Sukumar's first film with Mahesh Babu. Expectations from Sukumar are very high. In fact, writing is Sukumar's forte. Somehow he fails to deliver in this film. The story is run of the mill."
"To say it in a line, the film falls short of expectations and disappoints film goers, especially the fans of Mahesh Babu."
Sangeetha Devi Dundoo of The Hindu says, "This isn't your regular paisa vasool, masala cinema and may not be everyone's cup of tea. If you're willing to invest some patience and soak in the mood of a film that attempts to appeal to an audience that's used to watching global cinema, '1' will not disappoint."
Karthik Pasupulate of The Times of India says, "The writing is sharp right through albeit being not so whistle worthy. It packs quite a few smart one liners delving into the nature of truth, identity, pain etc. The music though comes as a dampener, as does the background score which seems too pretentious. The action sequences are very Hollywood inspired but fall well short of being breathtaking and end up looking cheesy."
Jeevi of idlebrain says, "'1 Nenokkadine' is not a commercial potboiler. Film lovers who have exposure to Hollywood films and world cinema will appreciate this movie. '1 Nenokkadine' is a film that makes Mahesh, Sukumar, producers and entire unit proud. We need to wait and see how a common movie lover who is used to formulaic films lap it up."
Mahesh S Koneru of 123telugu says, "For all the hype surrounding the movie, '1 - Nenokkadine' ends up as a disappointment. Except for Mahesh Babu's outstanding performance in the film, there is nothing in the film to entice or entertain movie lovers."
According to Gulte, "Mahesh Babu's brilliant performance is the only saving grace for this film. He has put in heart and soul in to the character and gave everything to it. But director Sukumar got it completely wrong and '1' ends up as an experiment that went horribly wrong."
Verdict: "1 Nenokkadine" Does not Live up to Expectations, Disappointment for Mahesh Babu fans