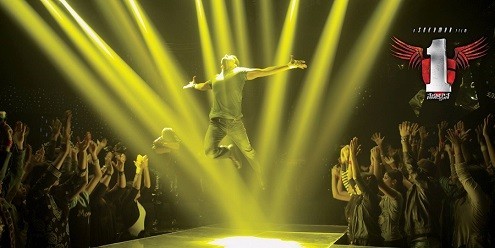 Mahesh Babu's "1 Nenokkadine" has failed to take a big opening on the first day of its release.

Amid huge expectations "1 Nenokkadine" released on Friday (10 January) as a Sankranti treat for fans. The film received mixed reviews (mostly negative) from critics and the first day audience. As a result, the film took off on a below par note at the Andhra Pradesh box office.
The film's performance was not as expected by trade experts and fans. According to Andhraboxoffice website, "1 Nenokkadine" has collected ₹8.40 crore share in AP on its first day.
Here is the break-up of the film's collections (share) territory-wise: Nizam - ₹2.50 crore, Ceeded - ₹1.28 crore, Vizag - ₹0.71 crore, East - ₹1.08 crore, West - ₹0.67 crore, Krishna - ₹0.51 crore, Guntur - ₹1.24 crore and Nellore - ₹0.41 crore. The film's first day share from AP stands at ₹8.40 crore.
"1 Nenokkadine" was expected to break "Attarintiki Daredi" first-day AP share, which amounted to ₹10.75 crore. But the Mahesh Babu starrer was not able to surpass the ₹10 crore mark.
Despite releasing in around 1,000 screens in AP, "1 Nenokkadine" could not make it to the top 5 list of day 1 openings. The film takes the sixth spot in the list after "Attarintiki Daredi" (₹10.75 crore), "Baadshah" (₹9.25 crore), "Ramayya Vastavayya" (₹8.7 crore), "Cameraman Ganga Tho Rambabu" (₹8.65 crore) and "Naayak" (₹8.55 crore).
Meanwhile, the four other films whose day 1 share has been surpassed by "1 Nenokkadine" are "Gabbar Singh" (₹8.15 crore), "Dhammu" (₹8.05 crore), "Racha" (₹7.86 crore) and "Oosaravelli" (₹7.3 crore).
The Mahesh Babu starrer opened well in Nizam and Andhra "A" centres but its performance has been average in other centres. Though "1 Nenokkadine" received a good opening compared to Mahesh's other films, the collections have been below par, considering the film released in a record number of screens in AP. Moreover, the recent hike in ticket prices should have worked in its favour but it still failed to rake in the moolah.
Negative word of mouth might affect the film's business in the coming days. Besides, Ram Charan's "Yevadu" is all set to hit the screens on 12 January. The film, which is releasing in up to 1,200 screens worldwide, is likely to pose a major threat for "1 Nenokkadine."
It remains to be seen if the psychological thriller will be able to sustain its business or witness a significant drop in its collections in its first weekend.
Meanwhile, the makers of "1 Nenokkadine" have trimmed the film by 20 minutes to appeal to the audience. The new version will be screened from today (11 January). Will the new version attract more audience to theatres? Only time will tell.