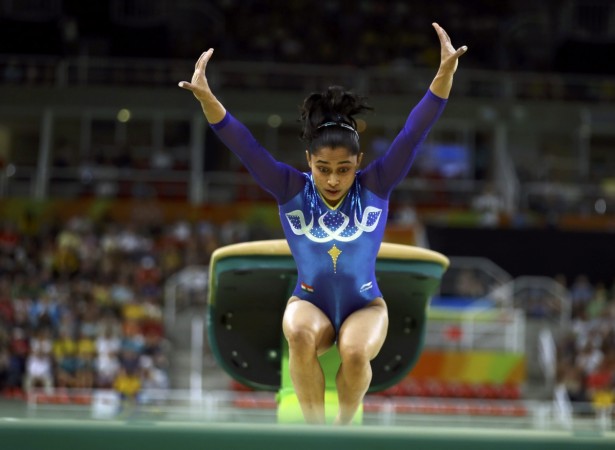 The "Nawab of Najafgarh" and one of the veterans of the India cricket team Virender Sehwag is known for his unique ideas and cool-as-cucumber demeanour as well as witty take on several issues. On Monday, on the occasion of India's 70th Independence Day, Sehwag made a unique proposition to PM Narendra Modi to honour two Indian athletes who made the nation proud in Olympics 2016.
Dipa Karmakar and Lalita Babar qualified for the finals of their respective events in Rio 2016, but lost out on a medal only by a whisker.
While Dipa came fourth in the women's vault finals on Sunday and won a billion hearts through her achievement, Lalita came in tenth at the women's 3000 metre steeplechase finals on Monday in Rio de Janeiro.
Medallions or not, the duo stole numerous hearts in what has been a rather disappointing Olympics campaign for India. Several journalists have proclaimed that Dipa, 23, hailing from Agartala, was the reason they made a detailed study on artistic gymnastics and learnt about the several forms of vaults. Lalita, 27, from Satara district in Maharashtra, too was the reason many turned up to google and search for what the 'steeplechase' form of athletics meant.
Sehwag, too, remained impressed with Dipa's and Lalita's feat to shine majorly in sports, which were relatively unknown to the Indian audience and asked PM Modi to bestow them with a fitting tribute -- by "considering naming a special plane and a train" after the two athletes.
"Everyone likes saluting the rising sun. Though our champions in Rio have not won a medal thus far for their incredible efforts and skills, the way some of them have fought against all odds has been amazing. Its important that we honour their efforts," said Sehwag, 37, in a post.
"I would request Hon'ble PM Narendra Modi ji to consider naming a special plane & a train after these two young athletes (even if it is a special for a few days and at the cost of not causing confusion) which in a way will encourage parents and inspire many youngsters to take up less popular sports as a career," the former cricketer added.
While Dipa became the first Indian gymnast ever to make it to the finals of a gymnastics event, Lalita became the first Indian athlete after 36 years to make it to the finals of an Olympic track and field event.