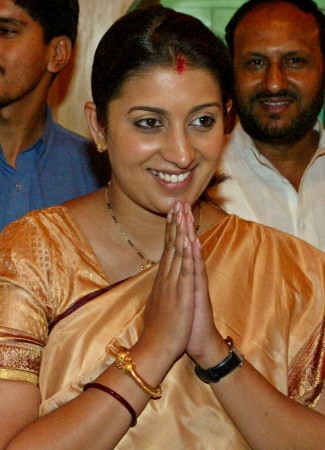 Union Human Resources Development Minister Smriti Irani responded to the controversy on the term "Guru Utsav" mentioned in the government circular on Teachers' Day.
Southern parties, including the BJP's own allies suspected the term's usage as an attempt to rename the Teachers' day to "Guru Utsav".
The HRD Minister has reportedly said that the facts are being distorted and that the term was used to denote an essay writing competition to be held on the eve of Teachers' Day.
"An essay competition called 'Guru Utsav', which is a celebration of teachers, if that is opposed, then it appalls me that somebody would not want teachers who are the very foundation of our society, to be revered and respected," NDTV quoted Irani as saying.
The circular received tons of controversy from across the nation, mostly from southern state political parties.
The leaders from Tamil Nadu have claimed that the Centre is trying to impose Sanskrit and Hindi language over Tamil through such events.
"This morning I read a newspaper report that the Central Government has issued a circular to celebrate Teachers' Day (September 5) as Guru Utsav hereafter," IBNLive quoted DMK chief M Karunanidhi.
"We have been celebrating Teachers' Day for several years. This is an apt example of hatching a conspiracy to downgrade Tamil language and those who made sacrifices for its welfare," he added.
They demanded that if the Centre is trying to change the name, then it must be in Tamil or Telugu as the second Indian President Sarvepalli Radhakrishnan, on whose birthday Teachers' Day is celebrated, belonged to Andhra Pradesh and spent most of his life in Chennai.
The live telecast of Prime Minister Narendra Modi's speech on 5 September too has created controversy. West Bengal Chief Minister Mamta Banerjee has reportedly denied letting schools hold back students for live interaction with Modi.
Other states, including, Kerala, Tamil Nadu, Karnataka, Andhra Pradesh and North Eastern states too are unlikely to arrange live telecast in state schools as they do not consider it viable because of the language barrier.
As Modi is expected to address the event in Hindi, the students in these states are unlikely to understand the language. However, Irani on Monday also clarified that every school need not compulsorily participate in the live interaction on Teachers' Day, even though the Directorate of Education last week said that "any laxity in the arrangements shall be viewed seriously".