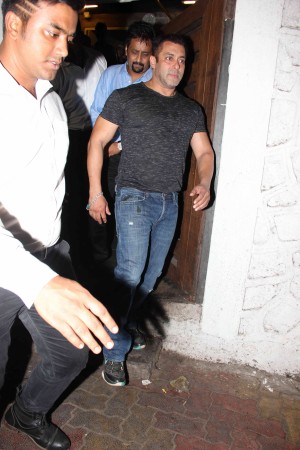 Salman Khan did not appear before the Maharashtra State Commission for Women (MSCW) despite a third notice sent to him to do so, which means the panel can now have an arrest warrant issued against the "Sultan" star. However, that may not come to pass, simply because the MSCW does not have a legal adviser, one of the at least 11 posts that has been lying vacant with the panel.
"We have received the letter. We are studying it now. We have sent it to our legal department and will decide the future course of action," PTI quoted MSCW Chairperson Vijaya Rahatkar as saying on Thursday.
Salman had sent a letter the second time he was summoned by the MSCW as well. "...we got a letter from his legal counsel today [Thursday, July 7] morning, in which he reiterated what he had said last time: That the matter was pending before the National Commission for Women (NCW), and that he did not want duplication in the matter," Rahatkar had then told International Business Times, India.
She had also explained the powers vested with the panel in case someone does not answer its summons thrice: "We have powers under the National Commission for Women Act, 1990, the Code of Criminal Procedure as well as the Indian Penal Code to issue an arrest warrant against such a person."
However, now it seems nothing of that sort will happen, because the MSCW simply does not have the manpower to pursue the case. An MSCW insider told IBTimes India that the panel simply does not have enough manpower to deal with all the cases pending with it, let alone pursue new ones. "We have not have a public relations officer for close to two years now. We also don't have a legal adviser, and we could also do we a few more counsellors and senior counsellors," they said.
In the absence of a legal adviser, it seems unlikely that Salman will land in any legal trouble with the MSCW. IBTimes India tried to contact Rahatkar for her comment in this regard, but multiple calls on her phone went unanswered.
Salman had been summoned by the National Commission of Women as well over his remark. He had said of his training and shooting regime for the film "Sultan": "When I used to walk out of that ring, it used to be like a raped woman walking out."
His next project is expected to be the upcoming instalment of reality show "Bigg Boss," which he hosts. This edition of the show is expected to begin some time in the middle of October.