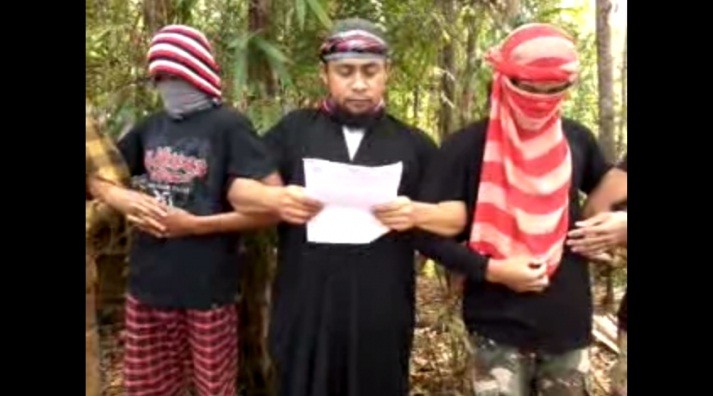 The Malaysian city of Sabah is on red alert after a video, in which the Filipino terrorist group Abu Sayyaf pledges allegiance to Islamic State, has gone viral.
In July, Isnilon Hapilon, the leader of the extremist group, posted a video of him along with other masked men on YouTube, openly declaring their support to the ISIS terrorist group, which has wrecked havoc in a swathe of land extending from Iraq to Syria.
The video shows the leader of Abu Sayyaf, who is one of the world's most wanted terrorists, wearing a black gown surrounded by masked supporters of the organisation.
The video, which shows the symbol of the Islamic State in its opening scene, is believed to have been filmed somewhere in the jungles of the southern Philipines, across from Sabah in Malaysia.
The video has gained prominence in recent weeks, after it was viewed by many. Pro-Islamic State and jihadist websites in regional language, 'Bahasa' were being watched following the unprecedented stir caused by the footage, The Star reports citing sources.
In the six-minute clip, the militants mostly speak in Arabic and in the native dialect of Yakan. They swear allegiance to IS and its head Abu Bakr al-Baghdadi in the form of 'baiah' or oath of loyalty, the report says.
The video clips reportedly gave intelligence agencies the most accurate image of Isnilon, who appears to have gained weight in the footage much in contrast to other photographs, in which he appears to be thinner with reports even saying that he had suffered a stroke at one point.
It is believed that the video was meant to inspire support for the Islamic State especially in south-East Asia. Isnilon, wanted by the US and Malaysia, is said to responsible for a raid on Pom Pom island in Semporna (located in the East coast of Sabah in Malaysia) on 15 November 2013.
"The situation in Iraq and Syria, where IS is operating, seems to have given a fresh impetus to Isnilon. There are very good reasons for Malaysia to put out the red alert for this terrorist given the long coastline," one analyst was quoted as saying by The Star.