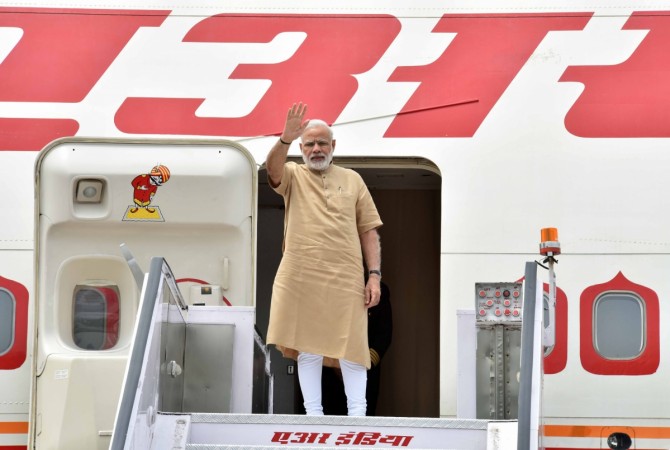 Prime Minister Narendra Modi asked China to make a "fair and objective assessment" of India's membership to the Nuclear Suppliers Group (NSG) on Thursday in Tashkent. He also urged China to "join the growing consensus" towards India.
Modi arrived in Uzbekistan's capital Tashkent on Thursday to attend the Shanghai Cooperation Organisation (SCO) summit where India and Pakistan will become members of the regional group. Modi was also scheduled to hold bilateral talks with China's President Xi Jinping to discuss India's NSG bid.
The SCO is a six-member bloc with China, Russia and the four Central Asian Republics of Kazakhstan, Kyrgyzstan, Tajikistan and Uzbekistan.
"Anti-terror cooperation is a subject under the SCO that all member countries undertake and we too will be part of that and certainly we too envisage cooperation on that front," Sujata Mehta, Secretary (West) in the Ministry of External Affairs, was quoted as saying by the Hindu.
India will be signing the Memorandum of Obligations with the SCO at the summit, which is on June 23 and 24. Formalities for India's permanent membership to the bloc will be a long process that will take place throughout 2016.
Before leaving for Tashkent on Thursday, the prime minister tweeted: "India is glad to be a member of the SCO & looks forward to fruitful outcomes particularly in the field of economic cooperation through SCO. India attaches great importance to ties with Central Asia & always seeks to expand economic & people-to-people ties with the region. [sic]"
Modi is also scheduled to meet Russian President Vladimir Putin at the summit.
The membership to the coveted group, NSG, will allow India to trade nuclear materials and technology with the 48 members of the group.
Meanwhile, Foreign Secretary S Jaishankar arrived at Seoul for the NSG plenary where India's membership will be discussed.
China had earlier said the South Asian country's membership was not on the Seoul plenary agenda, but Ministry of External Affairs Spokesman Vikas Swarup had refuted that.