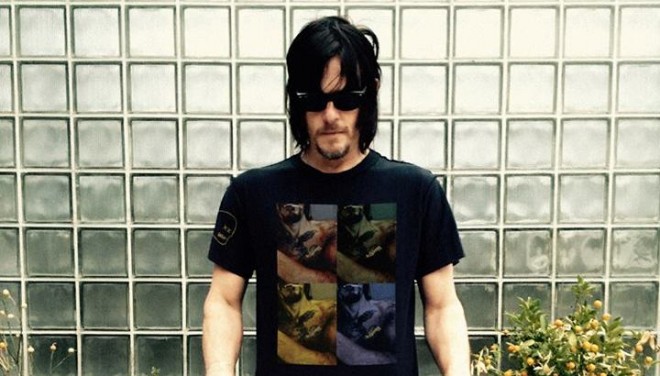 Norman Reedus and Emily Kinney, who bonded on the sets of AMC's zombie apocalypse drama "The Walking Dead", have sparked rumours of being an item.
According to a new Us Weekly report, the two have had a strong connection during their time on the drama, but it deepened after Kinney left the show in 2014. Kinney's character Beth was killed off in season 5, and Reedus, who plays Daryl, kept in touch with her through texts, and appearances at fan conventions. He is also said to have been present at Kinney's music gigs, according to the media outlet.
He was also reportedly spotted cheering on Kinney at her 21 May show in Decatur, Ga.
"He was one of the first to support her at her concerts when she was still on the show," a source close to the pair told Us. "They had a connection early on in the show, but the romance developed recently. They're still pretty guarded about it."
Reportedly, Reedus was the first to reach out to Kinney when it was revealed that her character would be exiting the show soon. At the time she also noted that she carries around a keepsake from her "The Walking Dead" days, and it was gifted to her by Reedus.
"I'm not as much of a collector as everyone else," she said. "(But) I have this turtle shell Norman gave me that I take everywhere."
Although there are signs that the two are an item, Reedus' rep told E!Online that the actor is not dating Kinney.
Speculations on their onscreen characters becoming an item were rampant during season 4, but it was quickly came to a halt after Beth was kidnapped and killed in season 5.
Talking about Kinney's character Beth, Reedus once said that Beth was like the flame at the end of a dark tunnel. "Beth was kind of like this long dark tunnel. She was kind of like this little flame at the end of it. He got closer and closer to that flame and thought maybe he could see something and maybe there would be light and it's getting warmer and warmer… and then someone blew it out," he said, according to Cinemablend.
Reedus and the rest of "The Walking Dead" gang are currently busy filming season 6 of the zombie apocalypse.